LESS THAN ORGANIZED…
I like to think of myself as a very organized, forward-thinking person. Sometimes I even excel at being that person. When I'm organized and on top of things, I feel so much more calm and centered. Sometimes I am the mom at the park who has the spare change of clothes, extra socks, and hand sanitizer in my "emergency" bin in the car. Sometimes I am at the grocery store with my perfectly curated list and I actually know where my debit card is! Sometimes my house is tidy, my thank you cards are stamped and sent, and our drawers are full of clean clothes.
In my last recipe post I was practically begging for summer to be over and, after more thought on the topic, I've realized that part of why I feel so ready for fall is that in fall I'm so much more organized. The "Summer Me" does not know how to stay organized, in fact, "Summer Me" is kind of a disaster. I'm the mom in the park who notices two minutes in that her three-year-old has forgotten to put on important undergarments. In summer I am the person who realizes after their groceries have been rung up that they forgot their wallet. In the summer our house is tracked with dirt from the garden, the "to do" boxes go unchecked, our laundry grows into mountains, and her kids often go a day or two before we stopped to question when their last proper bath was. I do enjoy elements of these wild days, but by mid-August I'm ready to get things back in order.
I often wish I was either more organized or more laid-back. I've been working on being both aspects of life; trying to get on top of things while trying to let go of expectations and relax. Where I am on the spectrum or organization varies depending on the season, at the moment I'm leaning towards "not at all". As much as I want to be carefree, I rely on organizations and routine to hold "it" together. When I'm organized, I am more laid back… sadly, this doesn't seem to work in reverse, or so summer keeps reminding me.
My cooking also varies based on where I'm at in the spectrum between organized and… less than organized. In the winter, when I tend to be very organized, I channel my inner Julia Child – cooking and baking with more precision, time and effort. In the summer when I am feeling frazzled and busy, my recipes tend to be simple and tossed together, often without much premeditation or structure.
This cold pasta salad came about when one of those recent frazzled, busy days. We had taken the kids to the swimming pool and came home hungry and wiped out in the way that swimming pools wipe you out. As Kyle quickly bathed the babies, I whipped through the kitchen throwing together what would turn out to become a new favorite summer meal.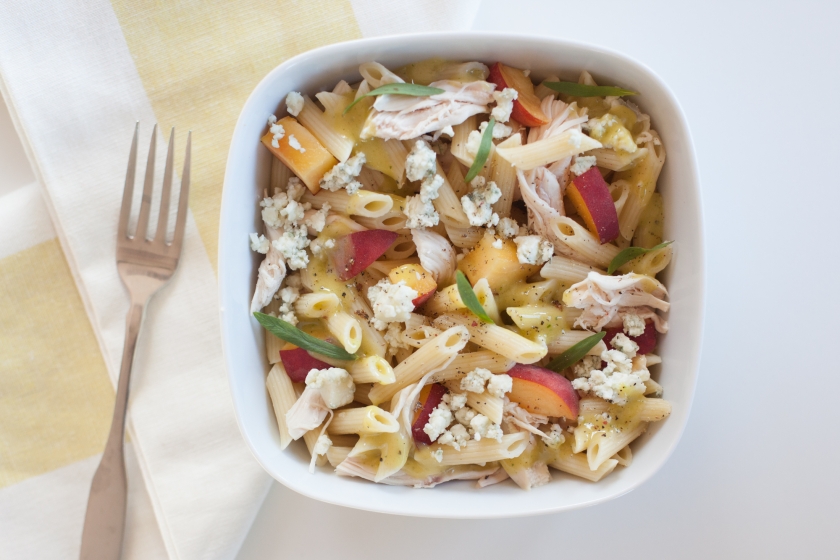 PIN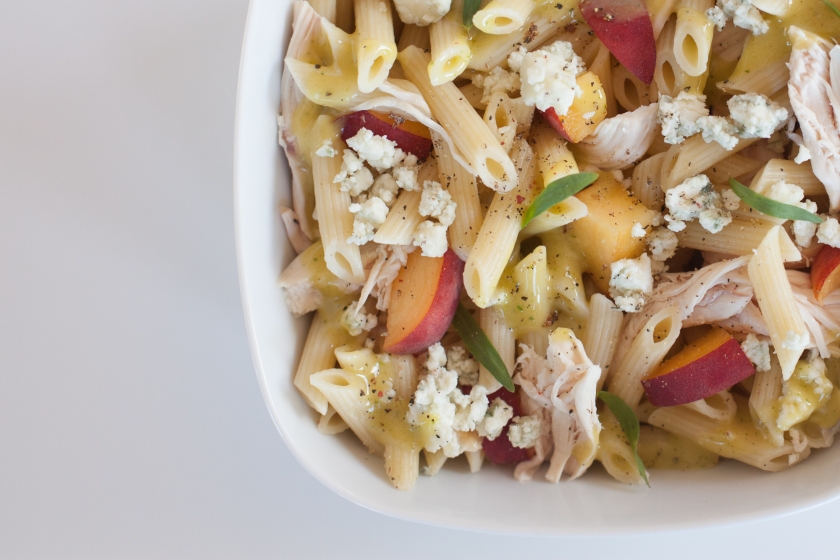 PIN

I quickly cooked and cooled some penne pasta, whisked together a tart Champagne vinaigrette, sliced and diced a ripe peach, shredded some left-over chicken breast, added some fresh tarragon and pungent Gorgonzola and miraculously had a made-from-scratch dinner on the table before the girls had finished their bath! These kind of meals are my saving grace in summer. I don't pull them off often enough, but they serve as a reminder that, although we may have had way too many slapped together peanut butter and jelly sandwiches for dinner this summer, I still have the hope of regaining my formerly organized life. If not this month, than maybe next month.

PIN

COLD PENNE WITH ROASTED CHICKEN, PEACHES, GORGONZOLA AND TARRAGON
Ingredients.
1 lb. penne pasta
2 cups shredded roasted chicken breast (my roasting directions below)
2 large, ripe peaches, pitted, and diced
4 oz gorgonzola cheese, crumbled
1/4 cup Champagne vinegar
3/4 cup extra virgin olive oil
1 teaspoon dijon mustard
kosher salt
freshly ground black pepper
1 tablespoon minced, fresh tarragon
small handful fresh tarragon (whole leaves)
Directions.
If you don't have left-over chicken on hand you can easily roast some. I buy bone-in, skin-on breasts. Preheat the oven to 375˚F, drizzle the breasts with olive oil, season with lots of salt and freshly ground black pepper. Roast for about 45 minutes or until the internal temperature is 165˚.  Allow the chicken to cool before discarding the skin and bones and shredding the chicken.
Bring a large pot of salted water to a boil, add the penne, cook until al dente, drain, and rinse with cold water until cooled. Set aside.

In a medium bowl whisk together the minced tarragon, dijon mustard, and the champagne vinegar until combined. Slowly drizzle in the olive oil, while whisking, until the vinaigrette is well combined. Season to taste with salt and pepper.
In a large bowl gently toss together the pasta, chicken and peaches, and transfer to a large serving dish. Top with the gorgonzola, the fresh tarragon, and the vinaigrette. Finish with a few turns of freshly ground black pepper.
Enjoy!
PRINTABLE RECIPE.
COLD PENNE WITH ROASTED CHICKEN, PEACHES, GORGONZOLA AND TARRAGON