I'm sitting in our bed right now, which is just our mattress on the floor of our room, surrounded by moving boxes and clothes slopped into large plastic bins rather than dresser drawers. I can hear the girls waking up in their room which echoes the same interior design theme. We are at that odd moment in packing and moving when we're down to lots of miscellaneous things. Our office is packed with things we're planning to sell at a garage sale, and a relatively small portion of our belongings have been allocated to storage. My to do list is filled with things like: pick up a quart of paint, pack up pantry items for my sister, get notarized and official documents from the county office, etc. It's all starting to feel really, really real.
In the midst of the errands, and packing, and feeling incredibly excited and overwhelmed, I have forced myself to stop and cook. There's been moments where I've dreaded it, like when I'm in the middle of organizing a box or emptying a drawer and I look at the clock and it's 4:45pm and I know there's nothing in the fridge and we end up eating salads with lettuce from the garden and hard boiled eggs. But then there's been moments where I crave it, where I just want to drop my paint brush and packing tape and retreat to the kitchen where things feel somewhat normal and I can carve out room for my cutting board and just focus on a meal… or more likely these days, a dessert.
My stepmom gave me a large bunch of rhubarb from her garden and, since the strawberries were popping up in ours, I decided to make a classic rhubarb and strawberry compote to which I added a Campari syrup. Campari is a bitter, herbal, sweet, unique liqueur, generally considered an apéritif that hails from Italy. Once concentrated down with quite a bit of sugar to cut the bitterness, I added it straight to my simmering fruit. The result was a slightly tart, sweet, bitter, tannic, compote that cut perfectly through the richness of a simple vanilla bean flecked panna cotta.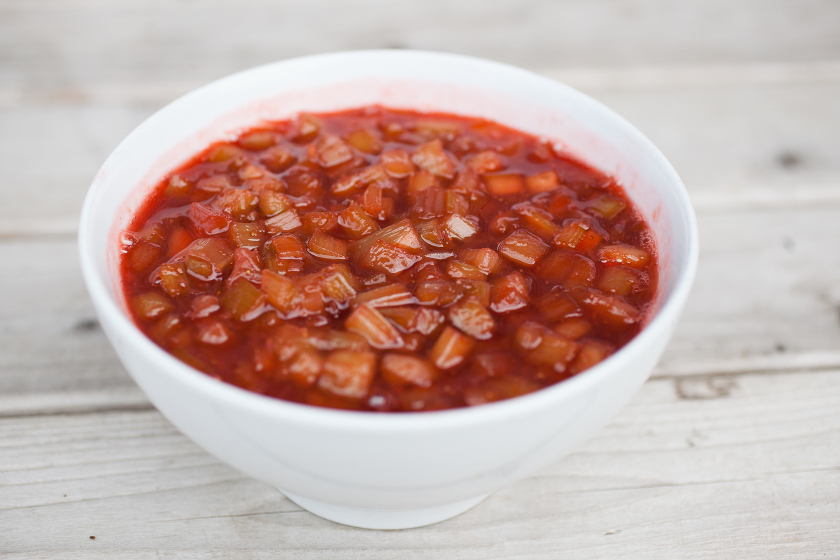 PIN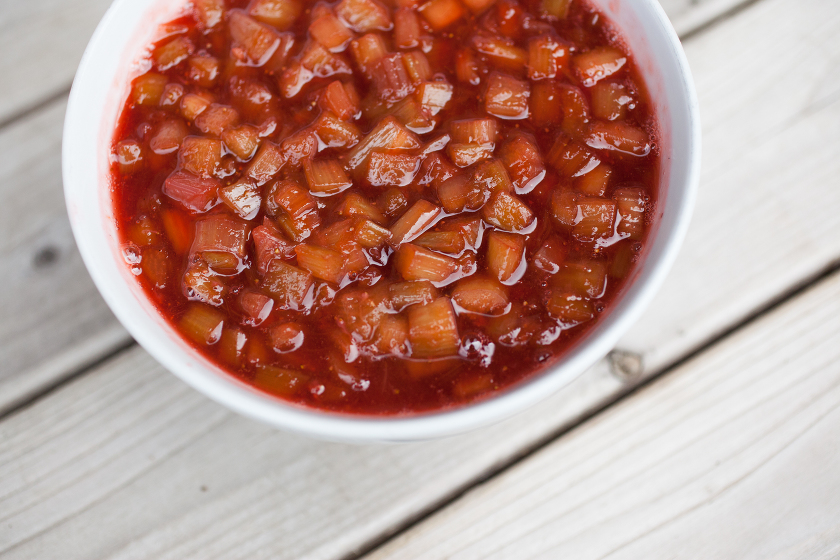 PIN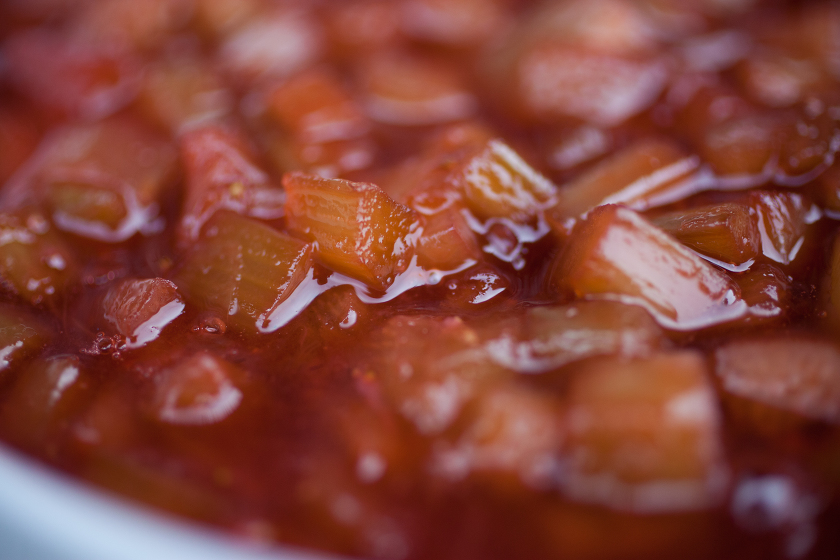 PIN

When I told Kyle that I was making a Vanilla Panna Cotta with a Strawberry Rhubarb Campari Compote he looked at me with his eyebrows raised and said, "Isn't that a lot to do?" I assured him that, in spite of how lovely and fancy it sounds, it's actually one of the simplest things I could make. I mean, sure, it's not as simple as picking up a pint of ice cream and grabbing four spoons, but it's really pretty simple… and sometimes you just have to ignore everything that's going on and make something delicious and indulgent to remind yourself that stillness can exist amongst wild chaos.

PIN


PIN


PIN


PIN

VANILLA BEAN PANNA COTTA WITH STRAWBERRY RHUBARB CAMPARI COMPOTE
Ingredients.
1/4 cup Campari
1 cup granulated sugar
1/4 cup water
2 packets gelatin (.25 oz each)
1/4 cup cold water
4 cups heavy cream
1 vanilla bean
2 teaspoons pure vanilla extract
1 cup granulated sugar
pinch of salt
5 oz hulled strawberries, cut in half or quartered depending on size
15 oz diced rhubarb
3/4 cup granulated sugar
1/4 cup water
zest and juice of 1 large lemon
pinch of salt
Directions.
In a small saucepan, combine the Campari, sugar, and water and bring to a low boil, stirring until the sugar is completely dissolved. Reduce to about 1/2 cup of syrup.
In a small glass dish stir together the gelatin and 1/4 cup cold water and set aside for ten minutes and allow it to bloom.
Prepare six glass dishes on large rimmed baking sheet.
Split your vanilla bean lengthwise and use a sharp paring knife to scrape out the vanilla beans. In a large, heavy bottomed sauce pan combine the heavy cream, vanilla beans, vanilla pod/shell, vanilla extract, 1 cup sugar, and salt. Bring to a low simmer, whisking constantly. Remove from heat, discard the vanilla bean, and whisk in the gelatin until completely dissolved.
Carefully pour 3/4 cup of the panna cotta mixture into each of the glass dishes. Set the baking sheet in the refrigerator to chill for two hours.
In a medium non-reactive saucepan combine the rhubarb, sugar, water, lemon juice and zest, Campari syrup, and salt and bring to a simmer. It will take somewhere between 5-7 minutes for the rhubarb to cook. You want it to have a little bite left in it, like al dente pasta. When it seems nearly done, stir in the strawberries and cook until it's perfectly done. Carefully transfer the fruit to a glass bowl using a slotted spoon, leaving the syrup/liquid in the pan. Turn the heat up and reduce the liquid to 3/4 cup before adding it to the fruit. Stir together and let it cool to room temperature while the panna cotta sets.
To serve simply spoon the room temperature compote onto the chilled panna cotta and enjoy.
If you have leftover compote you can keep it in a sealed container in the refrigerator and serve it over yogurt or ice cream. It will keep for about a week.
PRINTABLE RECIPE.
VANILLA BEAN PANNA COTTA WITH STRAWBERRY RHUBARB CAMPARI COMPOTE