SLOW DOWN. UNPLUG…
Sometimes life feels like a whirlwind of diapers, dinners, errands, laughter, tantrums, emails to return, phone calls to make, weeds to pull… But when things slow down at different points throughout the day I get to see it for what it really is. Life right now is freshly planted perennials, the sound of water pulsing through the hose and soaking into the beds, the light spring breeze, the texture of crumbly sidewalk chalk, my reflection in Lulu's big blue eyes while she nurses, fruit that ripens too quickly, the crunch of gravel underfoot at garden store, the smell and weight of damp, clean clothes on the clothesline, sneaking blows of ice cream during nap time (I love being an adult), mud spattered feet, fresh ice water with cucumber slices, warm, heavy cuddles with Gigi after nap time, and late evening rainstorms.
The thing that helps me slow things down is simplifying. I have, as you know, been simplifying my space, but I've also been making a concerted effort to simplify my time.
I've been leaving my phone in the back room for hours at a time, and when I have it out in the living area I've been leaving it plugged into the wall. I've been using an "old fashioned" handset to enhance the land-line style of phone-use even more. I find if I'm standing in one spot, stuck in the kitchen, I don't stay on the phone long. I started to use the phone less after Lulu was born, it began pretty naturally since I just couldn't use it as much, but lately it's become very intentional. I don't answer the phone every time it rings… which I used to do. I don't respond to every text… which I used to do. I've also given myself permission to not respond to every single email that comes my way… which I used to do.
We got our first iPhones when Gigi was born and I'm trying to start thinking about it like a mini-computer, as opposed to just a phone, and I've been asking myself, "Would I get my computer out right now?" While technology was supposed to make things more efficient and easier, it often just feels like it adds complication and urgency.
I've cut way back on all social media. I have stopped using Facebook for personal use. I recently went through and deleted many of the photos on my Instagram feed, and reduced the number of people I was following both on Instagram and on Twitter. I also took my email off my phone!
Because of the recent reappearance of my back pain, I'm really minimizing my time on the computer. I have to be on the computer for work, but I don't want to waste my time on it. I was thinking about the expression "killing time" last night while I laid in bed with bright clear moonlight streaming in and I thought, "Why in the world would I want to kill time?" Freeze time? Yes. Slow down time? Yes, please.
One way I've been slowing time down for myself is by making myself a simple lunch after a put the kids down for their naps. It's usually not much, a quick open faced sandwich or little salad. But it's part of the way I'm taking care of myself. I make myself a little food, and I sit in silence and eat while I jot down ideas, make a little list, or plan my next move for the day. I have really been loving making tartines, which is a fancy name for an open faced sandwich. My friend James told me she makes them all the time, and I'm often at a loss for lunch ideas, and now I can't stop making them! My favorite topping at the moment is whole milk ricotta which I jazz up with some herbs, or lemon zest and top with any variety of things.
This delicate Tartine with Ricotta and Micro-Greens is topped with a very simple Limoncello Vinaigrette. The idea came to me when I saw some beautiful, locally grown micro-greens at the the grocery store. I knew they'd pair up well with the creamy ricotta and some sort of bright dressing. I had originally intended to make a champagne vinegar based dressing, but didn't realize that we were out of champagne vinegar. As I searched out refrigerator door for an alternative I came across a lovely bottle of Limoncello that a friend of ours had made and given to us as a gift, and I decided to give it a try. The dressing on it's own tasted pretty vodka-y, but when it was added to the other ingredients on the tartine, it blended in but left a little bite. The sweetness of the Limoncello was the perfect counter to the bitter micro-greens.
These were almost too pretty to eat… almost. Making something simple and pretty, something that feels a little elegant for myself for lunch in the middle of a busy day while I ignore my phone, my emails, and all the other "noise" that's become the norm in my world, allows me to clear my head and reset. It's not a luxury I get to enjoy every single day but I am trying to make it a priority.
PIN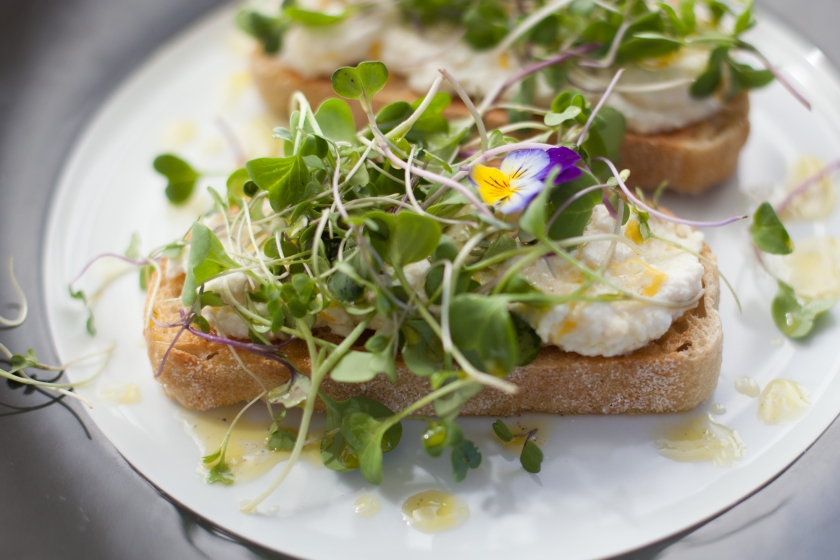 PIN


PIN

TARTINES WITH RICOTTA, MICRO-GREENS AND LIMONCELLO VINAIGRETTE
Ingredients.
4 slices of your favorite French or sourdough bread
1 cup whole milk ricotta
2 teaspoons lemon zest
a couple pinches of fresh thyme
micro-greens
1 1/2 tablespoons limoncello
3 tablespoons extra virgin olive oil
freshly ground black pepper
kosher or maldon salt
Directions.
Drizzle the slices of bread with olive oil and pop them under the broiler until they are golden.
In a small bowl whisk together the limoncello and olive oil. Season to taste with salt and pepper.
In a bowl, mix together the ricotta, lemon zest, thyme, and a pinch of salt and pepper.
Smear the bread with the ricotta mixture, top with micro-greens and drizzle with the vinaigrette. Top with a bit of Maldon salt.
Serves 2 adults.
PRINTABLE RECIPE.
TARTINES WITH RICOTTA, MICRO-GREENS AND LIMONCELLO VINAIGRETTE