SOMETHING PRETTY FANTASTIC…
Well, the second half of our week in Seattle didn't turn out quite as planned. In fact, it was downright rotten. We all came down with the stomach flu, and were basically a house of walking zombies for a few days. I didn't think things could get much worse, but after being sick all night, I was lying on the floor in the bathroom feeling about as awful as I ever have, and Kyle called to tell me some very sad news: a friend had died unexpectedly. I got off the phone and just cried. It was about 6am and, luckily, the girls were still sleeping so I just laid on the floor for a while feeling terribly sick, and terribly sad.
After a day of recovery the girls and I packed up and headed home; calling it quits on our trip a few days earlier than plan. We got home on Saturday, after stopping halfway at my friend's house for a night, dropped the girls with the neighbors, and headed to our friend's memorial service. Needless to say, I'm completely exhausted in all capacities. I spent all day yesterday puttering; pacing from room to room unpacking and just trying to stay awake.
You know when you're really, really mentally and physically fatigued and just focusing your eyes feels like a challenge? That was me all day. Meanwhile, Kyle who is finished with school now, hummed around me accomplishing things. He simultaneously baked bread from his own sourdough start, washed both cars, and built a trellis for the cucumbers in the garden. I did nothing other than vaguely think about what I can use this week's round of fresh baked sourdough bread for.
Kyle is a bit of a perfectionist. So, when he's doing something, especially something that involves fermentation, he takes it to the next level. Which means that we have been eating a lot of fresh-baked sourdough bread lately… which is just fine by me. I've been making the simplest tartines during the day; little open-faced sandwiches that take hardly any time to throw together.
This recipe for Tartine with Ricotta, Thyme, Lemon Zest, Arugula and Honey is about as simple as it gets. It makes a really light, easy lunch, but may just end up on our dinner table tonight since I really can't imagine making anything more complicated than that given the state of things around here. Not that I need an excuse to make these; I've been making tartines for breakfast, lunch, dinner, and dessert! There's something pretty fantastic about crust bread and just about any topping. I love that they can be eaten without silverware, while sitting cross-legged on the floor with the kids, or alone at the table with a good book balanced in my non-sandwich holding hand. This recipe, with the light ricotta, sweet honey, and bitter arugula is one of my favorites.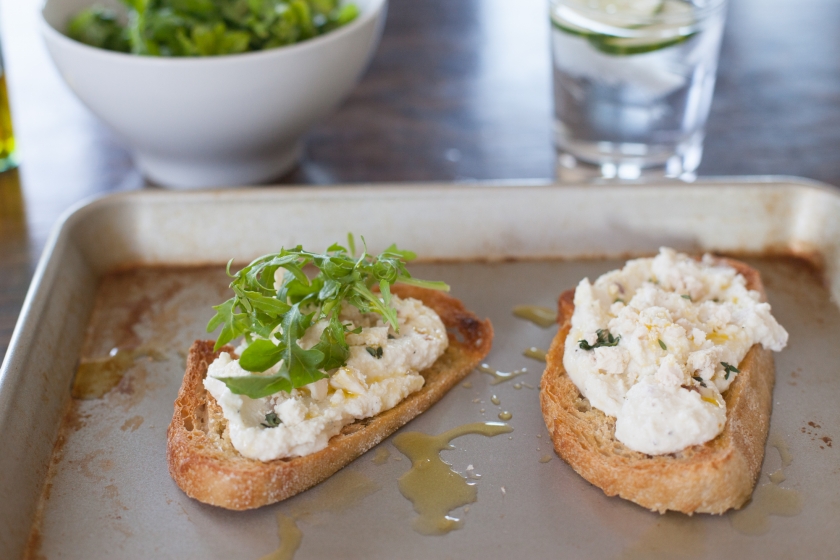 PIN

TARTINE WITH RICOTTA, THYME, LEMON ZEST, ARUGULA AND HONEY
Ingredients.
four slices of french or sourdough bread
1 cup whole milk ricotta
1 teaspoon fresh thyme, minced
1-2 teaspoon lemon zest
2 teaspoons shallots, finely minced
a few handfuls of arugula
feta cheese
extra virgin olive oil
Maldon or kosher salt
freshly ground black pepper
2 teaspoons honey, plus more for topping
Directions.
Drizzle your sliced bread with a bit of olive oil, pop it under the broiler until it's golden brown. Remove from the broiler and allow the toast to cool while you mix your ricotta and herbs.
In a small bowl mix together the ricotta, thyme, lemon zest, shallot, 2 teaspoons of honey, and a pinch of salt and pepper.
Top each toast with 1/4 cup of the ricotta mixture, a little crumbled feta, and a small handful of arugula. Then drizzle a bit of barely warm honey, and a little olive oil over each of the sandwiches, followed with a little drizzle of olive oil, a quick turn of freshly ground pepper, and a good pinch of Maldon salt.
PRINTABLE RECIPE.
TARTINE WITH RICOTTA, THYME, LEMON ZEST, ARUGULA AND HONEY