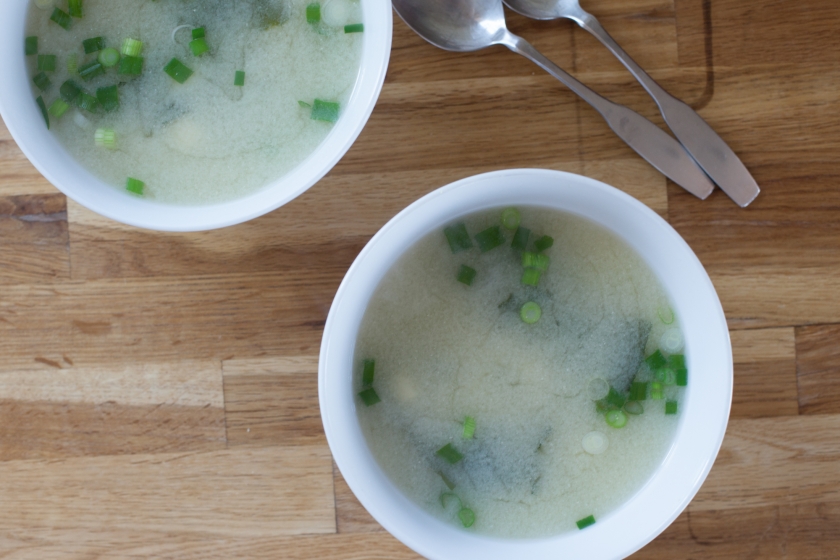 PIN

I've come down with the same cold that Gigi has… it was bound to happen after all the cuddling we've been doing. Luckily she seems to be feeling a tiny bit better this morning. Somehow, despite having a sick tot and a sore throat the last couple of days, I've managed to get a lot done. I started and finished my 2012 taxes, made a month's worth of menus and did a huge grocery shopping trip, did all the laundry (well, Kyle folded it), and I watched the first disc of the old Dr. Zhivago mini-series. Apparently not even stupid cold can slow down the nesting power of pregnancy.
It's pouring rain out today and I made a big batch of my simple miso soup last night. It's the best thing when you are feeling under the weather. Rain and soup… and disc two of Dr. Zhivago. I came up with this recipe after craving miso soup for the majority of this pregnancy. It's simple, MSG free, and made from scratch. You can easily adapt it to suit your own taste. I make it constantly these days.
MISO SOUP RECIPE
Ingredients.
6 cups water
4 four inch kombu (seaweed) pieces
1 1/2 cup loosely packed bonito flakes
2 tablespoons wakame (ready-to-use) seaweed flakes
1-1 1/2 cup firm silken tofu, cut into small cubes
1/2 cup white miso
scallions, thinly sliced
toasted sesame oil (optional)
salt (optional)
Directions.
Fill a large saucepan with the water, add the kombu, cover and soak for 30 minutes.
After 30 minutes, slowly bring the water to a simmer. Add the bonito flakes and gently simmer for a few minutes. Turn off the heat and allow the broth to sit for five minutes before straining the broth through a fine mesh strainer, discard the bonito flakes and the kombu.
Simmer the clear broth for 15 minutes. Scoop 1 cup of the broth into a medium sized bowl, add the 1/2 cup of miso and whisk until the miso has dissolved. Gently stir in the, miso/broth, wakame flakes and tofu. Simmer over very low heat for a few minutes, to heat the tofu through.
Taste for flavor, add a bit more miso or a tiny bit of salt if desired.

Transfer the soup to serving bowls, garnish with the scallions and a tiny drizzle of toasted sesame oil. Enjoy immediately.
PRINTABLE RECIPE
MISO SOUP