We have so many changes happening. Changes that, had you asked me three months ago, I wouldn't have been able to foresee… I wouldn't have even known to think in that direction. The direction is that Kyle, after working for the same wonderful brewery for seven years, decided to leave. That was back in the March, and then suddenly here we are in the middle of May and he has wrapped up his time there. It makes sense, he's spent a lot of time there, worked his way up, enjoyed it immensely, and meanwhile has finished his Masters degree in Fermentation Science and Distillation. Now he is ready for a new chapter in his career.
What that means for our family, and what I have spent a fair amount of time in denial of, is that we will be moving. We aren't exactly sure where yet, but we're starting to form a good idea, and it's very exciting. Exciting, terrifying, surprising, overwhelming. There is a mix of grief at leaving the town that we love; the town that is home to some of the most wonderful friends we ever could have hoped to make; a special town that we've called home for ten years; and excitement of striking out on a new adventure.
We will know more within a week or so, and until then I'm keeping one foot firmly in denial. For me, the best place to embrace that lovely, conscious state of denial is in the garden and kitchen. After all, nothing says, "Hey, we're going to be in this home forever", than planting tomato plants that won't bear fruit until the end of the Oregon summer. Of course, on the other side of things our house is already full of mostly empty boxes, ready to be filled with different things depending on which direction things take us. But until those boxes are full, taped shut, and we're lining up a cleaning service to get our house renter-ready, you can find me in the kitchen, embracing denial and gorgeous spring salads.
PIN

Everything in our garden is at it's most tender. The kale is soft and lacy; the pea tendrils are sweet and feminine; the radish greens just beginning to reach for the sun. A very happy place for me is wandering through our little garden with a sharp pair of kitchen shears, feeling the late afternoon sun on my skin, while I trim here and pluck there, dropping greens, micro-greens, and herbs into the same bin to be rinsed and spun and tossed together into a vibrant, tender salad.
PIN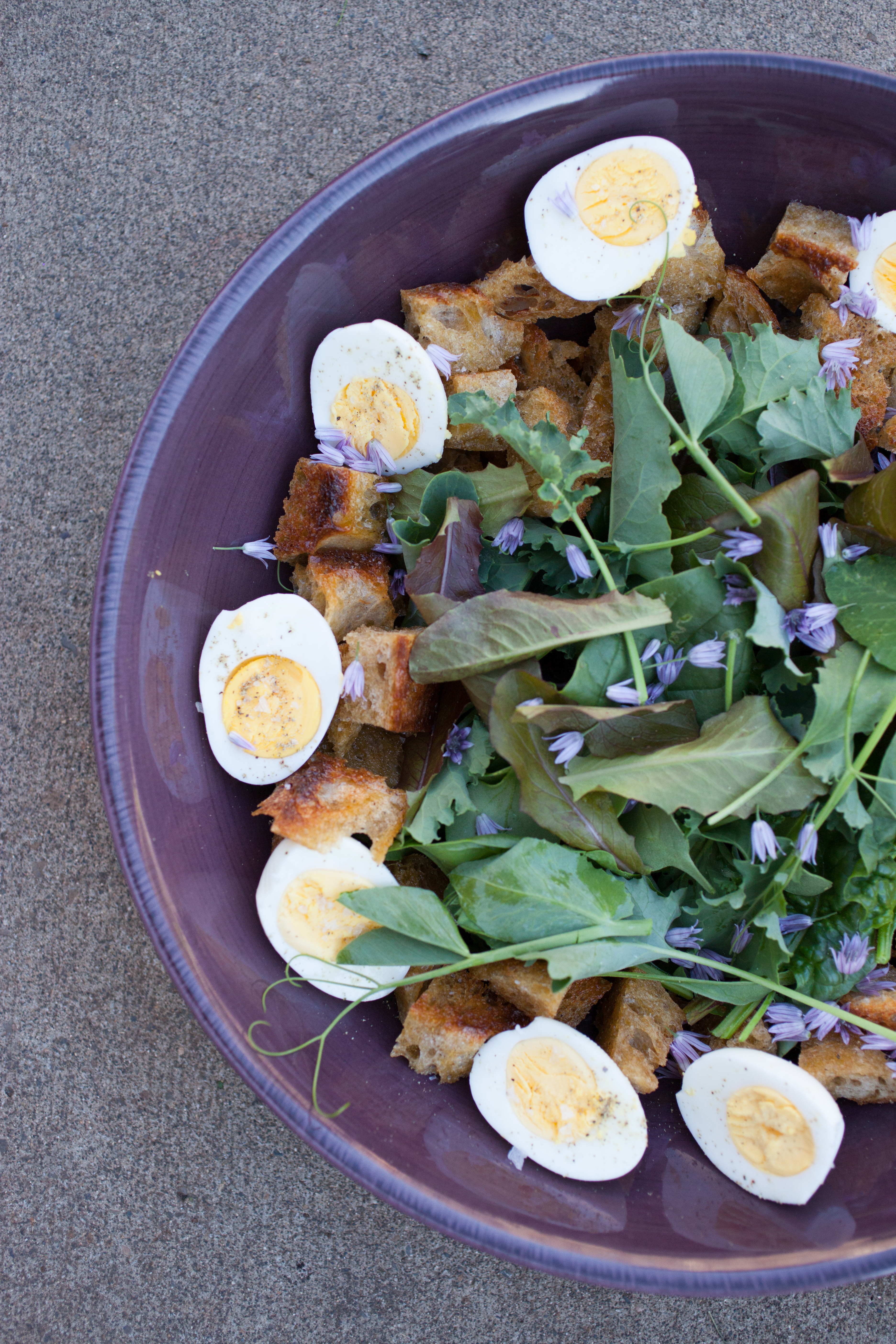 PIN

Over the past couple of weeks I've made a few variations of this spring salad, so feel free to pick and choose and adapt the ingredients based on what might be growing in your garden or available at a local farmers' market. The tender little greens are certainly the stars of this salad, but the fresh croutons, and breadcrumb salad dressing definitely contribute to the recipe. This salad begs for a glass of delicious Pinot Noir, or maybe a Tempranillo to accompany it… although a crisp Pinot Grigio would be pretty great too. Pour yourself a glass of wine, make this salad, and settle into whatever the moment brings, you can pack boxes (or answer emails, or fold laundry) later.

PIN


PIN


PIN


PIN


PIN

SALAD WITH HARD BOILED EGGS, GARLIC CROUTONS, FRIED CAPERS, AND BREADCRUMB DRESSING
Ingredients.
6 eggs
baby lettuce
baby spinach
baby kale
small carrot tops
radish (or other) microgreens
pea shoots
capers
chive blossoms
French breakfast radishes, very thinly sliced
Roma or cherry tomatoes, sliced
crumbled feta
1/2 loaf ciabatta, torn into bite size pieces
1/4 cup champagne vinegar
2 teaspoons minced chives
2 teaspoons Dijon mustard
2 garlic cloves, smashed
1 sprig fresh rosemary
2 sprigs fresh thyme
paprika
extra virgin olive oil
kosher salt
freshly ground black pepper
flake salt
Directions.
Place the eggs in a large saucepan, cover completely with water, place the pan on the stove and bring to a boil. Turn off the heat and cover the pan with a tight fitting lid. Allow the eggs to cook in the resting water for 12 minutes (for fully cooked eggs, shorter if you prefer soft boiled). Carefully transfer the eggs to a bowl filled with ice water. Set aside and allow to cool completely before peeling and slicing in half.
Wash and thoroughly dry your greens, place on a large serving platter or in a large bowl.
Pour about 1/4 cup of olive oil into a large nonstick skillet, add the crushed garlic, thyme and rosemary, turn the heat up to medium and allow the garlic and herbs to infuse the oil. Carefully remove and discard the garlic and herbs before increasing the heat and adding the torn pieces of bread. Toss continuously in the hot oil until croutons are golden and crisp (adding a bit more oil if/when needed). Transfer the croutons to a paper towel lined plate, season immediately with salt, pepper, paprika and gently toss.
In the still hot oil, carefully add a teaspoon or two of rinsed capers (they may sputter a bit in the oil), sauté them for a minute or two before transferring them to a small plate.
Crush one 1-2 of the croutons into fine breadcrumbs using a rolling pin. In a small bowl, whisk together the champagne vinegar, chives, and Dijon mustard. Slowly drizzle in 1/2 cup olive oil while whisking. Gently stir in the breadcrumbs, season to taste with salt and pepper.
Add the radishes, broken up chive blossoms, fried capers, tomatoes, crumbled feta, and eggs to the salad. Season the eggs with a little extra pepper and flake salt if desired. Dress the salad, and serve immediately.
PRINTABLE RECIPE.
SALAD WITH HARD BOILED EGGS, GARLIC CROUTONS, FRIED CAPERS, AND BREADCRUMB DRESSING