A WILLING PARTICIPANT…
Gigi has been the recipient of lots of wonderful, colorful, exciting, new-to-her toys. Our friend's two daughters recently decided that they were all done with everything fairy/princess/hot pink/baby doll related, so my lucky girl got van-load of dolls and books. It's been like Christmas in July. G had been loving having all the new things but they came in on top of some drastic reducing and simplifying we have been working on around here. We have a small space and, after a few weeks with the new toys, we talked to G and decided all together that we should offer some of the dolls and things to her friends who are a part of our hand-me-down train.
Some things didn't make it very far. One of the toys that we inherited was a workbench with wooden screws and tools. I kept it in the house for a few weeks, and Gigi played with it here and there but, as much as I wanted her to want to play with it, she didn't. She did use the wrench once… to try to reattach a doll's head to it's body. The workbench is now next door at her best friend's house; he came to play with it once and wouldn't stop talking about it. It's getting used a lot more.
Normally I would have avoided conflict and just swept through Gigi's room while she was playing elsewhere, but she's getting old enough now that it was important for me to have the conversation with her about passing things forward, sharing, donating, and keeping things clean and simple. To my surprise she willingly participated. We went through all of her toys, coloring books, and books. She chose what to give and what to keep, and honestly, she surprised me with her willingness to let things go.
I had been expecting a meltdown or two but she really rose to the occasion, although she did put her foot down on a big singing Ariel doll that I was hoping to pass along. I guess I'll have to put up with Ariel breathy voice saying, "The human world is so exciting. Will you please show me all the amazing things there are to see?". Last week I asked her for a big snuggle and she said, "I'm sorry. I got rid of that." So, I guess she's getting used to this whole downsizing program.
I'm really proud of her for how willingly she helped to sort and select the things that she loved and wanted to keep, and the things she thought would be okay to pass along to friends, or to donate. Keeping things simple is obviously something that's important to me and I love that she's getting to an age where I can start to teach her the value of simplicity.
I believe in simplicity, although I still feel overwhelmed with things. No matter how much we donate I still find more and more to pass forward. It's all a work in progress. I try to keep lots of things in my life on the simple side, especially my cooking. I don't push myself too much in the kitchen; I cook things that sound exciting, comforting, and simple. After all, I am the mother of two very active little monkeys, three if you count our much-neglected/much-tortured cat, so keeping things on the easier side of gourmet is important.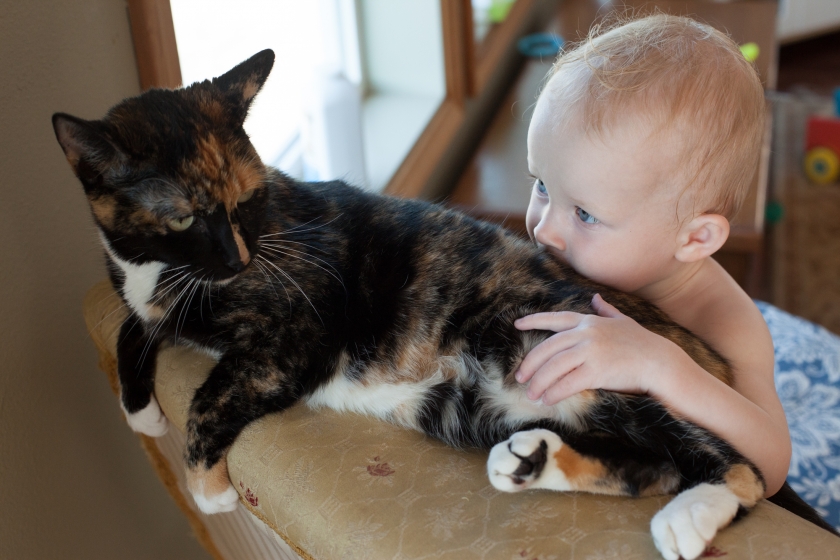 PIN

I recently read Molly Wizenberg's new book, Delancey. It has a great collection of simple meals that still have something special. I have been too busy re-watching Band of Brothers, and subsequently losing sleep due to stress, to have whipped up many of her recipes from this book but one recipe I've made and loved was her Chilled Peaches in Wine. Talk about simplicity! All you need is a few fresh peaches, bright wine, and a bit of sugar. I took some liberties with the recipe by using rosé, and tossing a few sprigs of fresh thyme in with the peaches while they marinated. I decided to enjoy these peaches on slices of toast that were smeared with a lot mascarpone cheese. No matter what kind of wine you use, or how you present the finished product, this is a very simple dessert.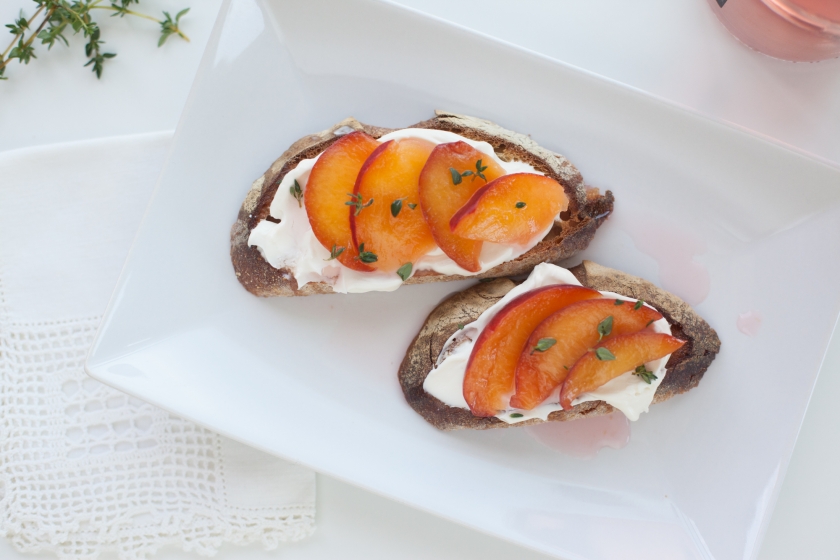 PIN


PIN


PIN


PIN

ROSE CHILLED PEACH TARTINES WITH MASCARPONE AND THYME
Adapted from Molly Wizenberg's recipe for Chilled Peaches in Wine
Ingredients.
4 large, ripe peaches, very thinly sliced
1/4 cup granulated sugar
2 cups rosé wine
3 sprigs fresh thyme, plus more for garnishing
french bread, thinly sliced
mascarpone cheese
Directions.
Place your peaches and sugar in a large bowl. Roll the thyme sprigs between your palms to release some flavor before adding them to the bowl. Gently toss the sliced peaches and thyme sprigs with the sugar. Add the wine and gently toss again. Cover the bowl and refrigerate for 12-24 hours.
When you're ready to serve the peaches, toast your bread slices. Allow them to cool for a minute or two before smearing them with a generous amount of mascarpone cheese. Lightly drain the peaches (it's okay if they're still dripping with boozy syrup) before topping the toasts with them. Garnish with a little fresh thyme and about a teaspoon of the syrup.
Enjoy immediately.
PRINTABLE RECIPE.
ROSE CHILLED PEACH TARTINES WITH MASCARPONE AND FRESH THYME