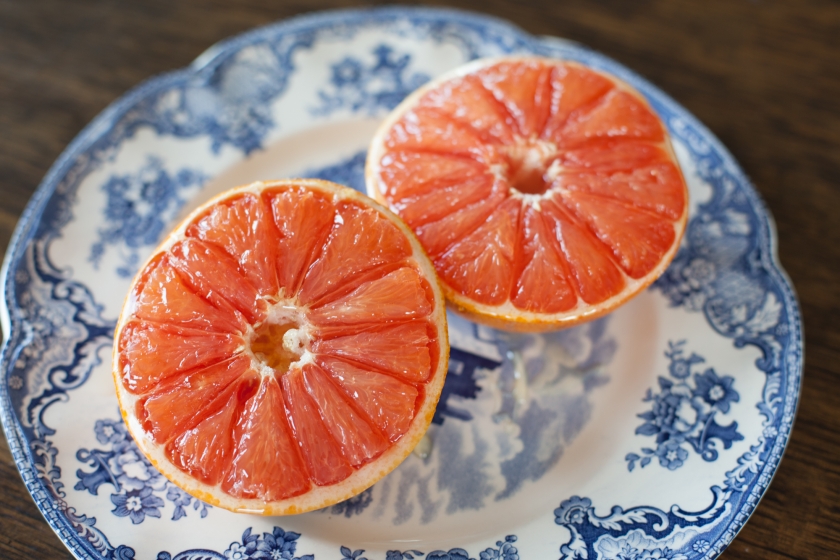 PIN

Last week I posted my recipe for Roasted Blood Oranges, and this week I'm sharing my simple recipe for roasted grapefruit. This is one of my happiest discoveries this past year. I love any and all citrus fruit but grapefruit is at the top of my list. Roasting it with a little sugar mellows out the bitterness and brings out the fruit's natural sweetness. A few minutes in the oven and this tart breakfast food transforms into a comforting, sweet treat. This is an fast, easy and healthy dessert. You can jazz it up with a little sprinkle of cinnamon or ground ginger.
ROASTED GRAPEFRUIT WITH HONEY AND CINNAMON
Ingredients.
1 large grapefruit
1 tablespoon granulated sugar
honey
cinnamon (optional)
ground ginger (optional)
Directions.
Preheat the oven to 375˚F.

Slice the grapefruit in half, exposing the segments. Using a sharp knife cut along the edges of the grapefruit segments (just as you would if you were planning to eat it in it's uncooked state). Sprinkle each half of the grapefruit with 1/2 tablespoon of granulated sugar, and a pinch of cinnamon or ginger if desired. Place the halves, cut sides up, on a baking sheet and pop them into the oven for 20-25 minutes. The segments will be slightly raised and the they will smell amazing.
Remove them from the oven and carefully transfer them to a plate. Drizzle with honey and let them rest for a few minutes before devouring.
PRINTABLE RECIPE.
ROASTED GRAPEFRUIT