This might sound kind of silly, but I recently realized that I hardly ever make "one pan meals". Even for the simplest things I end up using separate pans: sweating the onions in one, roasting the potatoes on another, cooking the chicken in yet another. So I decided that I was going to attempt a one pan meal. See? It sounds silly. But the continued effort to simplify our space, routines, and well, everything, led me to the realization that while I love to dirty up lots and pots and pans and baking sheets and roasting dishes making fun, elaborate, meals it could be nice to have a small list of one pan meals that I could throw together for busy evenings.
I have to say that my first attempt at this turned out so wonderfully that I might become a convert before winter turns to spring. Kyle was working late one evening so it was just me and the girls. I had big plans to keep things simple and relaxing. I'd picked up a copy of Inside Out for the kids, which I ended up watching with them and loving, and I planned out my one dish meal with things I knew they liked. I bought two bone in, skin on chicken breasts and lots of wonderful root vegetables: carrots, new potatoes, red onions, fennel, and garlic. I also had a bag full of Meyer lemons from a friend's backyard in California, so I brought a few of those into the mix too. This time of year Meyer lemons can be found at most grocery stores and they're a wonderful, fragrant addition to lots of dishes!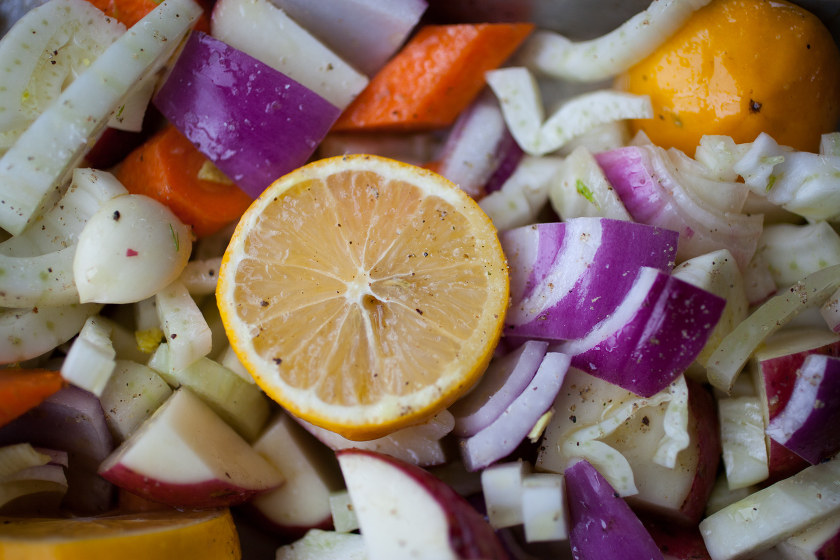 PIN

I made the meal early in the day which involved about ten minutes of simple chopping of the vegetables, slicing of lemons, a couple hefty glugs of grassy olive oil, turns of fresh pepper, and large pinches of kosher salt, and a sprinkling of herbs de Provence (we have some locally made "herb de Provence with dried lavender and it was perfect). I laid it all out on a roasting sheet along with the chicken breasts, covered it and put in the refrigerator until it was getting close to dinner time. I was feeling pretty pleased with myself for keeping it simple, planning ahead, and being prepared and proactive. Frankly, I didn't even care how good it was because I was just so happy to have it all set ahead of time!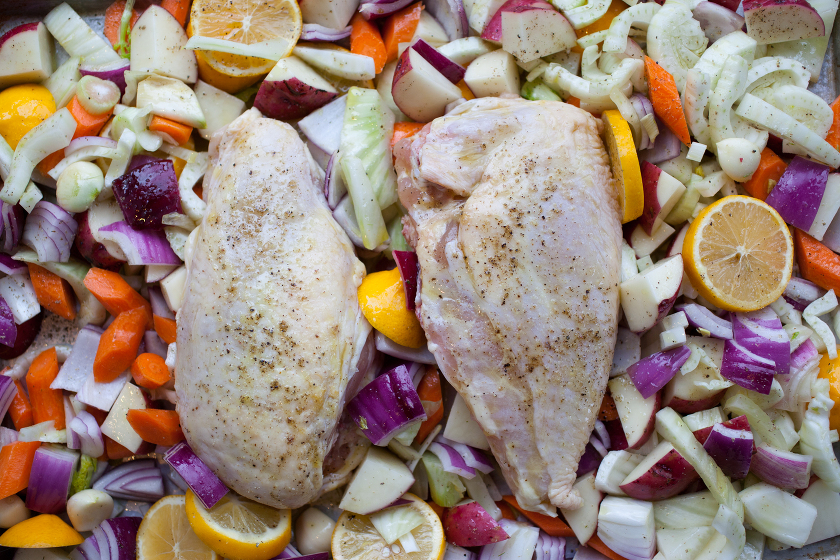 PIN

But let me tell you, it was so good I was giddy! It's been a while since I've felt actually giddy about a meal. Happy, satisfied, and pleased, yes, but not giddy, and I was giddy about this one. The vegetables were caramelized to perfection and they'd taken on the flavor of the chicken and the lemons in just the right way. The fennel, carrots, and red onions were sweet and provided a wonderful contrast to the salty potatoes and chicken.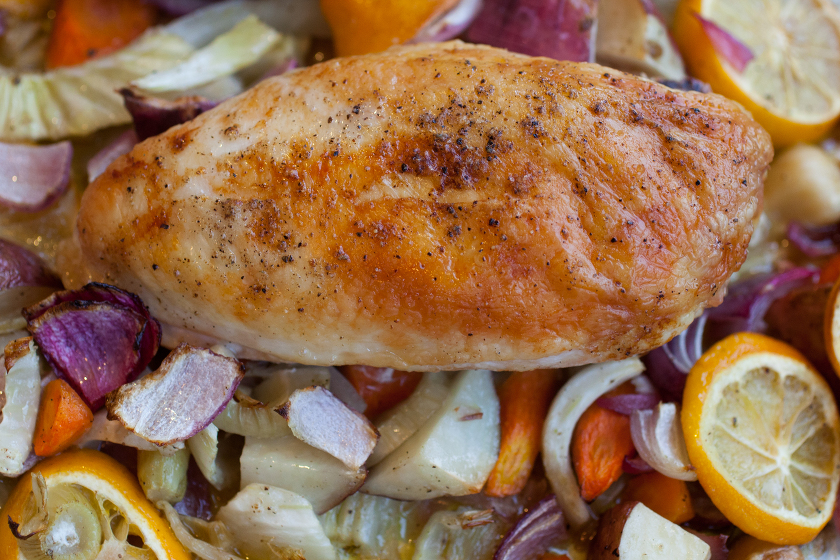 PIN


PIN


PIN


PIN

For my carb crazy kids I served the veggies and chicken over bow tie pasta, drizzled the lot with the drippings from the roasting pan, and shaved a bit of sharp parmesan over the top. I suppose that's cheating since I had to use a pot to cook the pasta, but since cooking pasta doesn't exactly dirty up the pot I'm giving myself a pass.
The dinner was delicious. We ate it in our pajamas and then headed straight to the couch to watch Inside Out. When Kyle got home from his long day of work I told him about the meal. I was so excited about it I made it again the following night so he could enjoy it too! I made it for him over pasta because it was delicious that way, but you could also eat with some crusty sourdough bread, like we did with the leftovers.

PIN


PIN

ROASTED CHICKEN AND ROOT VEGETABLES
Ingredients.
2 large bone in, skin on chicken breasts
1 fennel bulb, trimmed, and roughly chopped
6 small red new potatoes, cut into bite size pieces
2 large carrots, trimmed, peeled, and roughly chopped
1 red onion, peeled and roughly chopped
6 cloves garlic, peeled
1 Meyer lemon, sliced
extra virgin olive oil
herbs de Provence
kosher salt
freshly ground black pepper
Optional for Serving.
bow tie pasta
crusty bread
freshly grated parmesan
Directions.
Preheat the oven to 375oF.
Toss all of the chopped vegetables, garlic, and lemon in a large bowl with about 1/2 cup of olive oil, several turns of pepper, a large pinch of salt, and a healthy sprinkling of herbs de Provence. Dump the lot onto a roasting pan, nestle the chicken breasts into the vegetables, drizzle them with olive oil and season them with plenty of salt and pepper.
Put the roasting pan on the middle rack of the oven and roast for about an hour, until the chicken breasts are cooked through, tossing the vegetables around once or twice as it roasts. When the chicken is done, transfer it to a plate to rest for a few minutes while the veggies finish roasting.
Crank the oven up to 425ºF and roast the veggies for an additional ten minutes or until they're lovely and caramelized, tossing them once if needed. Removed them from the oven and discard the lemon slices.
Carve the chicken from the bone, and then slice it however you desire. Serve the vegetables and chicken immediately over pasta tossed with the drippings and topped with Parmesan, or on it's own with some crusty bread to sop up the drippings.
Serves 4.
PRINTABLE RECIPE.
ROASTED CHICKEN AND ROOT VEGETABLES