A LITTLE SPACE, A LITTLE PRACTICE…
The girls and I are spending an entire week in Seattle. It was kind of a spur of the moment decision, the likes of which aren't the norm when it comes to vacationing with two kids. We had plans to come up for a long weekend to celebrate Lulu's and my mom's birthday (May 23rd is a great day to be born!). Besides that I had plans to attend the rehearsal, and the opening night of Giselle at the Pacific Northwest Ballet. We drove up on Thursday and I spent both Thursday and Friday evening at the ballet with a wonderful friend. She treated me to dinner at Tillikum Place Café, which was fabulous, and two nights of superb ballet. On Saturday we had a birthday barbecue complete with swimming and sunscreen and strawberry shortcake.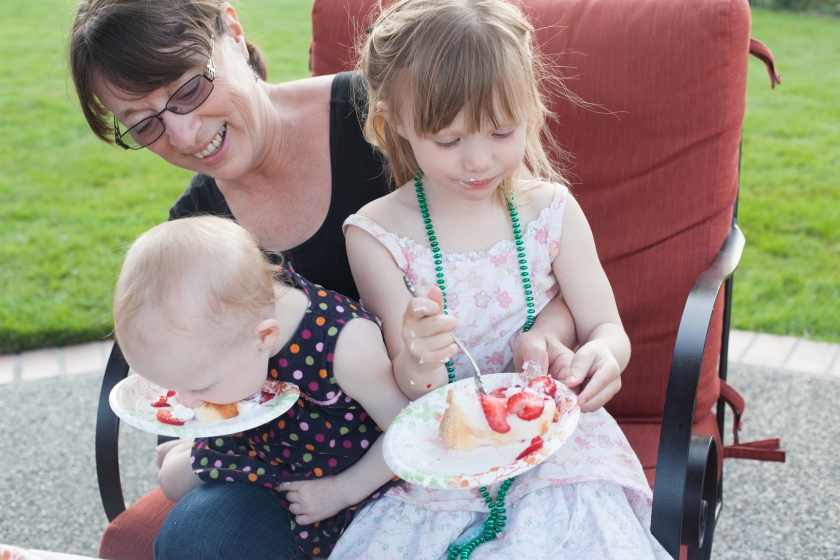 PIN

Kyle headed home on Sunday, back to work and to his studies. Kyle is studying, actually I think cramming is probably a more accurate verb, for his final final! As of Thursday afternoon, Kyle will have finished five long years of school. He will have a degree in Brewing and Distilling from Heriot-Watt University in Scotland. He's been working towards this degree since before we got married. He's diligently studied through a wedding, the purchasing of a house, two pregnancies, two newborns, building a garden, a home remodel, and approximately 1,000,000 distractions. In fact, I have vivid memories of him working away at a paper while we spent a few days in the hospital in Portland when I went into pre-term labor with Gigi, and studying like mad for an exam in the week after Lulu was born. It has taken some serious dedication, and lots and lots and lots of 5:30am wake-up calls to finish this degree. I thought that giving him a little space and time to study in a nice quiet house, and an easy way to fit in some mountain biking or beer sipping, without having to be pulled (literally) in several different directions at once, would make this last week of school much easier for him.
If I'm being completely, totally honest, I had a selfish angle too. I looked at this week as a great opportunity to check off a few stops on my long list of places I want to eat at here in Seattle. I've eaten already gotten a drink and eaten at Essex, had dinner with friends at Delancey, and grabbed pastries at Honoré. I stopped by each place on a different day, they all happen to be located right next door to each other which means I've been spending a lot of time on 70th in Ballard. I loved Essex and Delancey, the atmosphere was right up my alley, and while we do have some damn good pizza at home, we don't exactly have a place with that kind of energy; it's one of the few things I miss not living in the city. Honoré is one of my favorite places in Seattle and I stop at there every time we are here, usually more than once. I blow all my spending money on kouign amanns, which are these caramelized, flaky, crisp, salted spheres. Please don't ask how to pronounce kouign amann, I usually just point and drool and say, "Can I have two of those next to the pan au chocolat… and, while you're there I'll have a pan au chocolat and an almond croissant… and a classic croissant… and one of those macarons, and a 12oz latte." I load up on sticky, sweet, flaky pastries and head to the zoo where I attempt to steer a stroller around while shoving bites of baked goods in my mouth, and trying to not spill my coffee. I'm getting pretty good at it but will probably have to practice again later this week.
I love spending time up here in my hometown: visiting family members and friends, going to lunch with my 92 year old grandpa, spending lots of time at the zoo, swimming in my in-laws pool, and getting to spend lots of time with my sister and her son. We opted to stay with Grandma and Grandpa for the week. They are so helpful and wonderful, and in exchange for room and board (and lots of babysitting), I volunteered to cook all the dinners this week. This seems like a very balanced trade; I love to cook, they love to spend time with the grandchildren.
I have a chicken prepped and in the fridge, ready to make Roasted Chicken for dinner tonight; onions slowly caramelizing on the stove-top for French Onion Soup tomorrow; a couple of other easy dinners planned, as well as a couple of simple snacks. One thing I love about cooking is that it gives me a way to contribute and to pitch in when I'm staying with friends or family. My laundry folding and floor mopping skills leave something to be desired, so it's nice to know how to chop.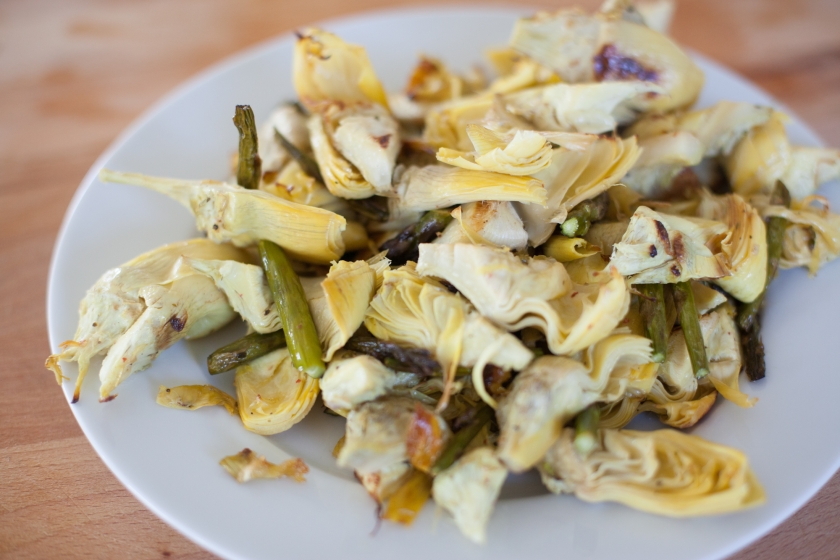 PIN

I love being able to, not only make dinners, but to also offer up simple snacks during the day like this Roasted Artichoke and Asparagus Dip with Pita Chips. This time of year, when asparagus is abundant, I like to incorporate it anywhere I can. A couple weeks ago I decided to experiment with a beautiful bunch of asparagus I picked up at the market by tossing it onto a roasting pan alongside some artichoke hearts for a little twist on classic artichoke dip. The result was a delicious snack that could be served at any temperature, any time of day, or taken along for a healthy snack to say, the zoo. Making the pita chips is really easy, and I brush them with a bit of oregano or marjoram infused olive oil which gives them a nice earthy, deep flavor. The dip itself is really flavorful and actually pretty healthy, which certainly can't be said for all artichoke dips. You can make it using regular mayonnaise, or Vegenaise if you prefer. I've made it with both and like the light tartness that the Vegenaise adds, but the mayonnaise is a bit creamier.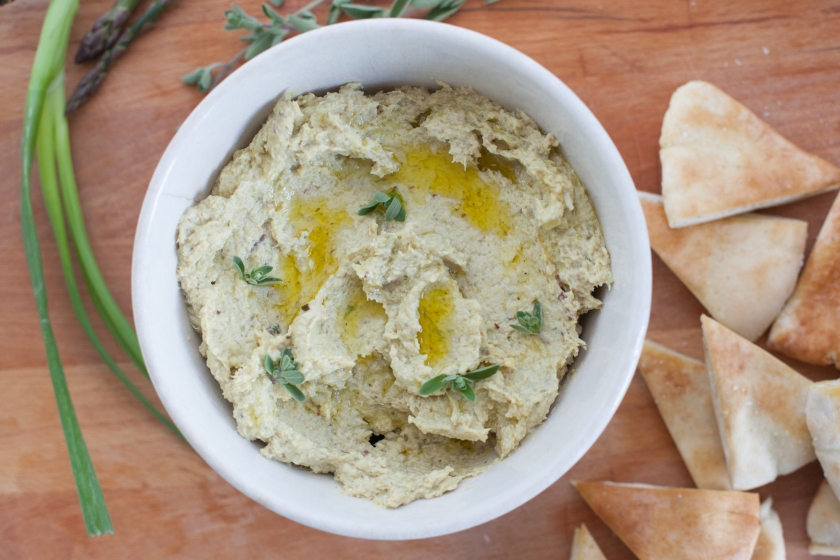 PIN

ROASTED ARTICHOKE AND ASPARAGUS DIP WITH OREGANO OIL PITA CHIPS
Ingredients.
2 14oz cans quartered artichoke hearts, drained
8 asparagus stalks, woody ends trimmed and discarded, cut into 2" pieces
2 green onions, white and light green parts only
1 garlic clove, minced
1 package of pitas (the kind that open like pockets, one package usually contains 4-6 whole pitas), cut into 8 wedges
extra virgin olive oil
a few sprigs fresh oregano or marjoram
1/4 cup mayonnaise or Vegeniase
kosher salt
freshly ground black pepper
Directions.
Preheat your oven to 375˚F.
Pour 1/3 cup olive oil into a small saucepan and warm over medium-high heat until it just starts to appear thin and clear. Toss in a few sprigs of fresh oregano or marjoram, turn off the heat and allow it to cool to room temperature. Set aside a few tablespoons of the oregano oil to use later.
Paint each side of your pita wedges with a little bit of the oregano infused olive oil, sprinkle salt and place in a single layer on a baking sheet. Cook in the oven for 12 minutes, flipping them over at the 6 minute mark. They should be lightly golden. Transfer the chips to a bowl and allow them to cool. They will crisp up as they cool down.
Toss the artichoke hearts, asparagus, and green onions onto the baking sheet. Drizzle with a couple tablespoons of olive oil, sprinkle with a pinch of salt and a few turns of freshly ground black pepper. Toss to coat.
Roast the vegetables until they are soft and starting to brown slightly around the edges, about an hour. Add the garlic clove, toss, and pop the pan back in the oven for another minute to soften the garlic flavor a bit. Remove the pan from the oven and allow the vegetables to cool for a few minutes.
Transfer all the vegetables from the food processor along with 1/4 cup mayonnaise or Vegenaise and a few tablespoons of the remaining oregano oil. Whiz until it's smooth, season to taste with salt and pepper, transfer to a bowl, top with a little more oil and serve along with the pita chips.
Serves 4-6.
PRINTABLE RECIPE.
ROASTED ARTICHOKE AND ASPARAGUS DIP WITH OREGANO OIL PITA CHIPS