BRILLIANT IDEAS…
Thank you all so much for your feedback on the new design. It is such a relief to have it done, and it's exciting to think ahead with a totally fresh perspective and clean slate, in a sense.
Many things in our house are starting to feel fresh. As you know, I've been simplifying and spring-cleaning for what feels like months now! I'm really starting to wonder if this is a forever-ongoing process? The more I pass along to the donation center or friends, the more I want to let go of. But it seems like there's always more stuff, more drawers, more things; so the process goes on. 

One department in which I may have over-simplified things is with my clothes. I had this "brilliant" idea that if I got rid of all my clothes that were old, stained, had holes in them, or that I didn't love, I would accomplish two amazing things: I would have less laundry to do, and I would really simplify my wardrobe. One thing I didn't take into account is that almost all of my clothes fit the above criteria for dismissal. I did simplify my wardrobe… simplified it to the point where I have one pair of pajamas, no pants that fit, two tank tops, and have been having to borrow Kyle's pajamas and sweatshirts. Sadly, I have the same amount of laundry, which Kyle tried to explain would happen unless I changed the amount of clothes I wore (not the amount of clothes I owned). But, as usual, when he tries to challenge my brilliant ideas with logic, I didn't listen. I now I have to do laundry more often since I run out of clothes to wear mid-week. I hate when he's right, and he almost always is when it comes to something logical like that. Not that it stops me from executing my less-than-exact ideas. That's one of the biggest challenges (and sources of humor) in our marriage; we both are stubborn and we both have to see things through our way before we can see through to the other side!
The room I have been putting the most effort into is our master bedroom. Lately I've been really needing a quiet, clean place at the end of the day to read, write, or zone out. Kyle has been studying and working around the clock for his final finals, so I've been spending a lot of time alone in bed with a book or journal. The more time I spent in our room, the more the clutter was starting to bother me. I hate clutter in general but in bedroom it was particularly frustrating. So I cleaned up the stuffed animals and random children-sized socks from the floor, went throughout my drawers again (I'm a slow learner), put away the mountain of half-clean laundry draped over the chaise lounge, reorganized the Shakespeare plays that G loves to look at and "read", made a big stack of old fashion magazines to pass along or recycle, washed the sheets and dried them on the line after spritzing them with lavender hydrosol, dusted and wiped down all the surfaces with meyer lemon scented cleaner. By yesterday evening, while not perfectly organized or clean, our room was vastly improved and much cozier. Which, with two little duckies underfoot at all time, felt like a huge accomplishment.
Besides the cleaning and the extra laundry, we've been planting, working, and playing the garden. I've been doing all the planting; so far we've planted radishes, butter head lettuce, romaine lettuce, kale, carrots, candy red onions, shallots, onions, leeks, and peas. Kyle has been taking on most of the work; edging the lawn with the excess of rocks that were dug up from our yard last summer, laying weed-mat, and moving compost. Gigi has been handling the majority of the playing. Lulu has been attempting to eating rocks, dirt, grass, bark, and dandelions. Technically I spend about half by time gardening, and half my time holding Lulu and pulling crap out of her mouth.
PIN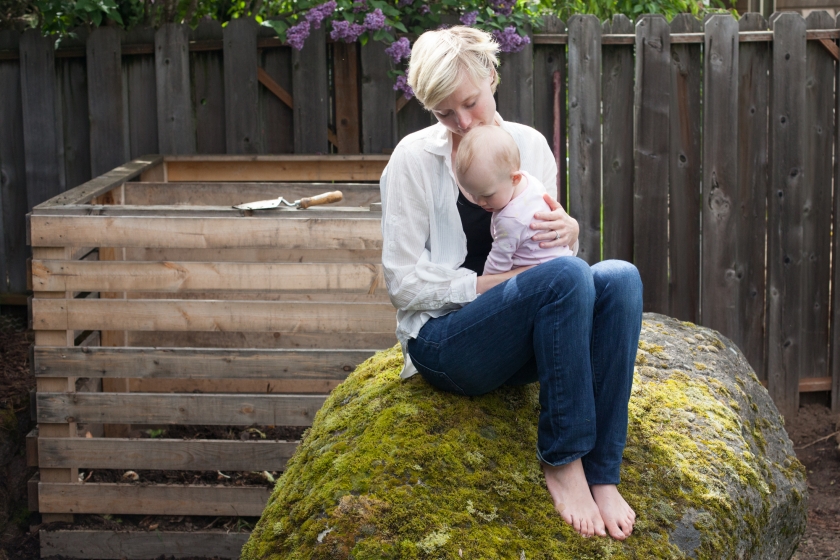 PIN

I have also been cooking a lot and I haven't relented on my stock-making obsession. I'm aware that as the days get warmer I'll have to take a break; I imagine that the charm of stock simmering all day long fades as the temperature rises. On these warmer spring days, the stock has been mostly getting turned into simple Posole.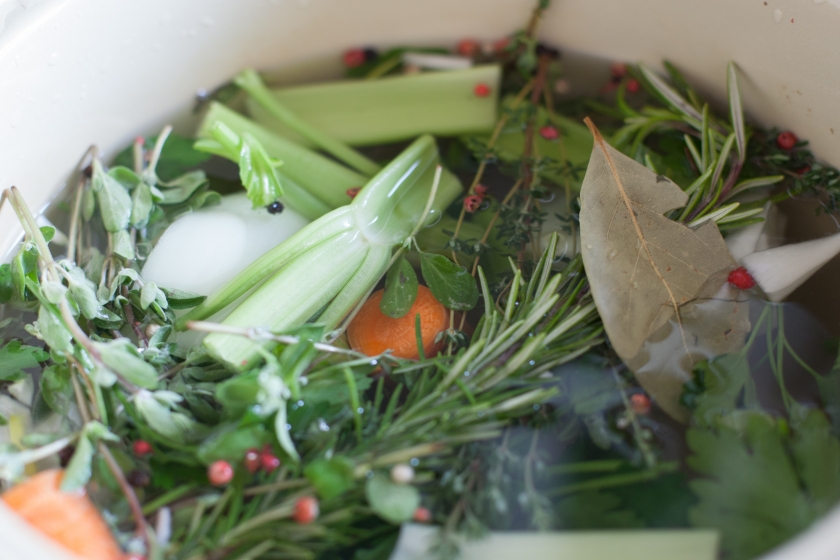 PIN

In early June of last year, when Lulu was a newborn, my friend Steph brought us Posole. It was the first time I'd ever had Posole. I don't know if it was the time of year, the fact that it was a meal I hadn't made myself, or the fact that everything Steph touches is practically perfect, but it was comforting and delicious and filled some Posole-shaped hole in our lives we hadn't known existed. Since I'm always roasting chickens and making stock, it was great to have something new to make with the fresh stock and leftover chicken besides my usual range of soups. This time of year is the perfect time to make this soup; it's cool enough out that you can still roast a chicken, but warm enough that this lighter, brighter version of chicken soup isn't too overpowering. The Posole soup itself takes no time at all to prepare and the wide range of toppings makes it endlessly entertaining for both the adults and children at the table.
I don't know how traditional this Posole recipe is since I started making based on Steph's over-the-phone breakdown of her recipe, but I love it so I'm not concerning myself with tradition. The soup is simple: a yellow onion, salsa verde (either store-bought or homemade depending on your time and energy), corn, hominy, broth, and chicken. The toppings are really what make this soup exceptional. You can use as few or as many of them as you like. I like to use them all, in excess. So, while I like simplicity in my home, I like an over-abundance in my cooking… or at least in my Posole. Happy cooking, and happy Cinco de Mayo.
POSOLE
Ingredients.
1 medium yellow onion, diced
3/4 cup salsa verde, plus more for topping
1 28oz can hominy, drained and rinsed
1 cup frozen corn, thawed or fresh corn cut from the cob
2 quarts (8 cups) chicken broth
5 cups shredded chicken
extra virgin olive oil
1 shallot, minced
1 avocado, cubed
1/2 bunch cilantro, washed and torn
4 radishes, thinly sliced
green onion, thinly sliced
1 jalapeño, seeded and minced
lime wedges
sour cream
kosher salt
freshly ground black pepper*
tortilla chips
Directions.
Heat 1 tablespoon of olive oil over medium heat, sauté the onion until softened, about 7 minutes. Add in 3/4 cup salsa verde and stir constantly for 5 minutes. Add in the hominy, corn, broth and chicken. Stir it together thoroughly and bring it to a simmer, and cook, uncovered, for 15 minutes. Season to taste with salt and pepper*.
Serve with all the toppings on the side, and a handful of your favorite tortilla chips.
PRINTABLE RECIPE.
POSOLE