HIGHLY UNUSUAL…
The girls slept in the morning. Does anyone else consider 6:30 sleeping in? Lulu still nurses in the morning before we get up and going for the day. We lie in bed and she nurses while simultaneously trying to pet the cat. It's amusing, a little awkward, and a little uncomfortable. But the cat and Lulu think it's great fun. After she's done nursing/petting Calypso, torturing me, we usually have a slow roll out into our day. But today, the forecast predicts it's going to be close to 95 degrees so I hopped out of bed, threw on a tank top, shorts, a bandana to keep my hair out of my face, and a little sunscreen all before I had even set the coffee to steep.
If you have ever been unfortunate enough to have spent a morning with me, you would know that this is highly unusual. I usually don't even get out of bed before I have coffee in my hand. In fact, I usually start the morning by sending Kyle a text that is two emoji images: a coffee cup and a baby. Code for: come get the baby and bring me a cup of coffee (please) (now). But Kyle went to work early this morning so I was on my own to start the day.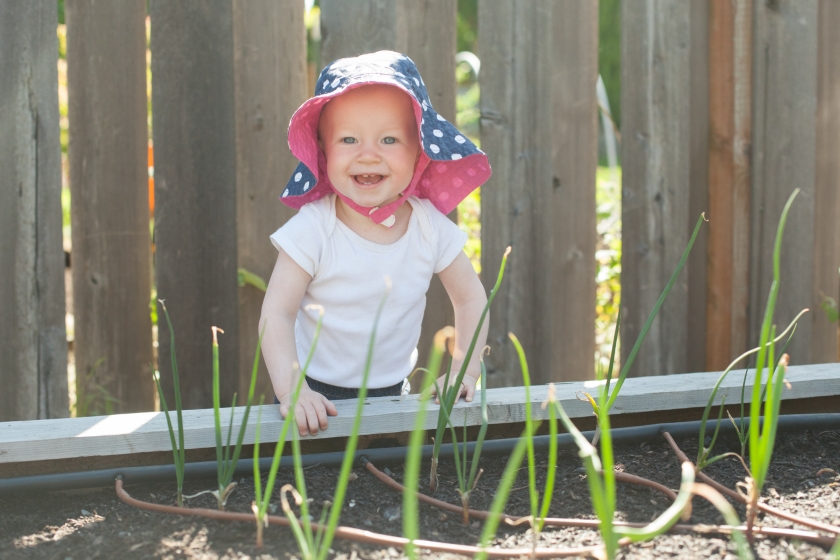 PIN

Since it's going to be really hot, I needed to get the garden chores done as early as possible. I started the laundry, poured myself a cup of coffee, and headed out to the backyard to water the vegetables, strawberries, and herbs. It takes a good half hour to water, especially when we have to give everything a good soak in anticipation of extra hot summer days. I watered the plants, filled the wading pool up for the kids, and headed back inside for cup of coffee number two. Then I loaded up the laundry basket with the freshly laundered clothes and hung them up to dry on our clothesline. So, now here I am at 9am, with my whole "outdoor" list done. It usually takes me until noon, sometimes even later, to get that list checked off!
I love tending to the garden in the early morning and enjoying it in the evening. Last night Kyle and I sat outside on the patio sipping rosé. The garden looked so bright and full and green. It amazes me how certain plants, like squash and beans and peas seem to double in size every day. We don't have much in the way of vegetables yet but we have lots of foliage. Everything in the garden looks so vibrant and healthy. I can't wait to be out in the morning picking zucchini, harvesting onions, trimming green beans… and cooking using those vegetables at dinner time. Of course, on a day with temperatures like today I try to keep the cooking to a minimum. One of the easiest things to cook when the weather is hot and the garden is green is vegetables tossed with pasta.
This particular recipe is takes about fifteen minutes to put together once your veggies are chopped up. I love to cook time consuming, elaborate meals, but not when it's hot out. When it's sweltering I dread the stove so anything that means less than half an hour of cooking time is wonderful! The bright, green vegetables in this dish soak up the garlicky oil, and the light heat from the red pepper flakes permeates throughout the dish, complimented by the pepper basil and bright flecks of lemon zest. This dish is delicious warm, or at room temperature. You could add a little sprinkle of Parmesan if desired.
PASTA WITH ZUCCHINI, ASPARAGUS, BASIL, GARLIC AND RED PEPPER FLAKES
Ingredients.
1/2 lb. spaghetti
1 zucchini, ends trimmed and discarded, sliced in half lengthwise and into half moons
12 asparagus spears, tops trimmed, stalks peeled into ribbons
3 garlic cloves, very thinly sliced
large handful basil, cut into thin strips
kosher salt
large pinch red pepper flakes
extra virgin olive oil
lemon zest
Directions.
Put a large pot of salted water on to boil.
Heat a few tablespoons of olive oil in a large skillet over medium high heat. Reduce the heat to medium and sauté the zucchini until it's softened and starting to turn slightly brown around the edges, about 6 minutes. Add in the asparagus spears and sauté for another 4 minutes. Season with a bit of salt.
Meanwhile, add the pasta to the pot of water and cook until al dente – according to the instructions on the package. Drain and toss into a large bowl.
Add a few more tablespoons of olive oil to the skillet, allow it to heat up before adding the asparagus ribbons, garlic slices, and red pepper flakes. Toss and sauté for a few minutes, until the garlic is fragrant and the ribbons are vibrant. Transfer everything from the pan, including every last drop of olive oil, to the bowl with the pasta. Toss together gently and allow to cool for a few minutes. Season to taste with salt. Transfer into large serving bowls or plates, top with basil, a bit of lemon zest, and a drizzle of olive oil.
PRINTABLE RECIPE.
PASTA WITH ZUCCHINI, ASPARAGUS, BASIL, GARLIC AND RED PEPPER FLAKES