ITALIAN HAND GESTURES…
Yesterday when we were at the park I found a four leaf clover. I usually find a few a year but I've found a couple in just the last month. I carefully carried my lucky clover home and, as soon as we walked in the door I led Gigi over to my Grandma's hutch upon which is perched a few special books: an old copy of Our Hearts Were Young and Gay, and Is Paris Burning? both given to me by Kyle's Nana, and an old copy of Emma. I picked up Emma and opened the rickety pages to chapter 24. Right between pages 232 and 233 is where I keep my four leaf clovers. I showed Gigi how to press it into place with the others and carefully close the book before sliding it back into pace on top of the hutch.
Opening the book and catching a glimpse of of Austen's words made me immediately want to pour myself a cup of tea and curl up in the corner of the couch with Emma in hand. I love Jane Austen. After all, one of Gigi's middle names is Bennet. Every fall I feel drawn towards comfort. I want to re-read favorite books like A Prayer for Owen Meany, Animal Dreams, and Anne of Green Gables. But mostly I want to read Emma, Pride and Prejudice, Persuasion, Northanger Abbey, Mansfield Park and Sense and Sensibility.
I don't usually do it. I normally let my logic get in the way. As I reach up to the bookshelf to get an old favorite, I see all the books I haven't read yet; some of which have been patiently waiting their turn for years. I feel sorry for those poor, patient books and feel obligated to choose from the ranks of the unread. But this fall I'm going to just exactly as I please and I'm join got read my comforting Jane Austen novels.
To make up for my familiar-leaning reading choices to come, I am planning to challenge myself in the kitchen. I'm going to crack open new cookbooks, and check out some new ones from the library. Did you know that you can check out cookbooks from the library? At our little one you can so I imagine you could at your libraries as well! While I'm sure I will cook a fair amount of my favorite comfort food, I'll also be challenging myself with new foods and new variations of favorite dishes.
One of my favorite dishes is panzanella. A panzanella is a classic italian salad that usually includes cubes of day-old bread, roasted bell peppers, tomatoes, red onion, mozzarella, and basil. I love to make it in the summer with this classic approach, but seeing as it's already feeling like autumn here I wanted to take a fall approach to this dish. I'm sure my recipe will make some Italian Grandmothers click their tongues and make some wonderfully-Italian hand gestures, but we loved it. We've made it quite a few times now; twice for lunch and twice for dinner.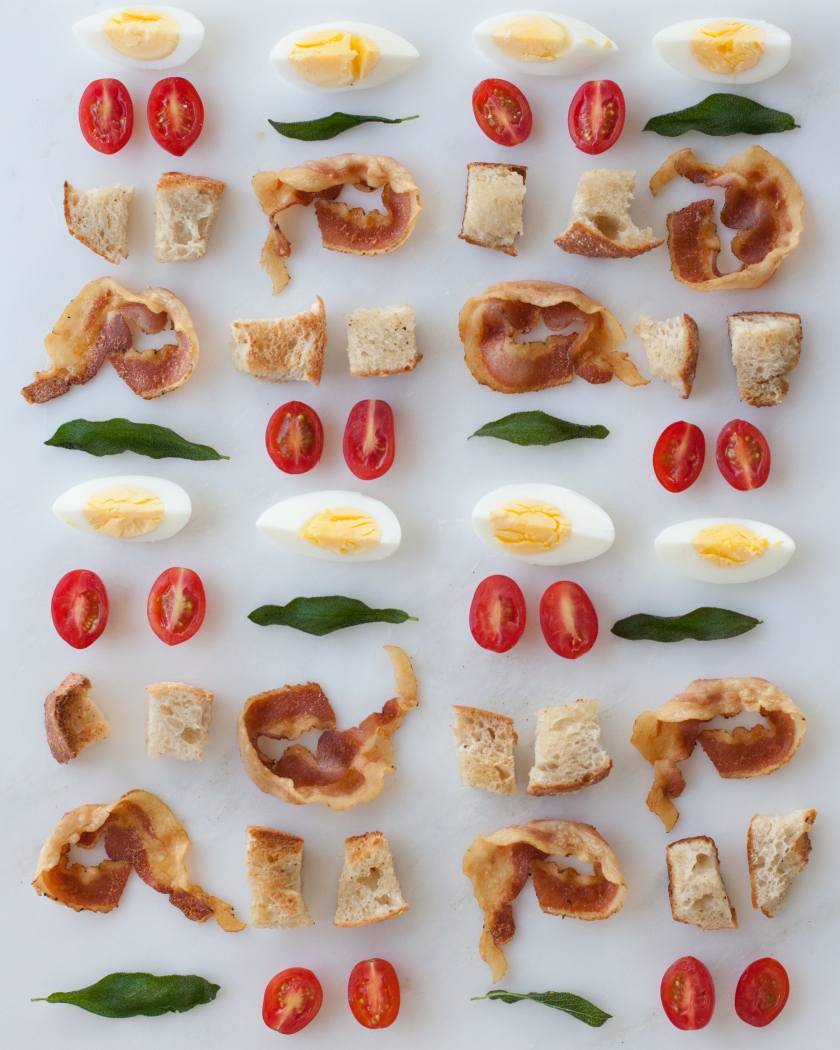 PIN

My fall panzanella boasts quite a range of flavors: sweet cherry tomatoes, salty pancetta, robust hard boiled eggs, and fragrant fried sage leaves. The dressing is made with bright champagne vinegar, mustard, garlic and lots and lots of chives. It's tart and absorbs into the cubes of bread, breaking up the earthy flavors of the main ingredients. The result is a wonderfully hearty, but not too heavy salad that stands as a main course.
No matter what you're reading, or what you're cooking, we wish a you a very happy start to fall. Gigi, Lulu and I made this cooking video of this recipe to share with you!
PANZANELLA WITH PANCETTA, HARD BOILED EGGS, CHERRY TOMATOES AND FRIED SAGE
Ingredients.
1/4 cup extra virgin olive oil
1 lb. rustic white loaf, cut into bite size pieces
10-12 large fresh sage leaves
8 slices pancetta
6 hard boiled eggs, peeled and cut into eighths
1 pint cherry tomatoes, halved
kosher salt
freshly ground black pepper
Chive Champagne Vinaigrette
1/4 cup champagne vinegar
3/4 cup extra virgin olive oil
1 small garlic clove, very finely minced
1 1/2 teaspoon dijon mustard
1/4 cup very finely sliced chives
kosher salt
freshly ground black pepper
Directions.
In a small sauté pan, heat 1/4 cup extra virgin olive oil until shimmering. Gently place in a few leaves at a time and allow to fry for 10-15 seconds. You don't want them to brown! Remove using tongs and set on a paper towel to drain. Repeat with the remaining leaves. Set the leaves aside and save the oil. (See the video below on how to fry sage leaves.)
Turn your oven on to broil. Carefully toss the bread with the sage-infused oil on a baking sheet. Broil on the middle rack, tossing once or twice, until some of the bread has started to toast and is lightly brown. The goal is to give the bread a bit of color and texture, not to completely toast it. Remove the bread from the oven and transfer it to a large bowl.
Using the same baking sheet, lay the pancetta slices out in a single layer. Place them in the oven, under the broiler, until they are crisp, flipping once. Remove from the oven and transfer to a paper towel to drain.
In a small bowl whisk together the champagne vinegar, garlic, chives, and dijon until combined. Then drizzle the oil in slowly while whisking. Season the dressing to taste with salt and pepper.
Break up the pancetta a little bit as you add it to the bowl with bread, then add in the tomatoes, sage leaves, and eggs. Toss together gently. Plate, drizzle with plenty of dressing, taste for salt and pepper, and serve immediately!
PRINTABLE RECIPE.
PANZANELLA WITH PANCETTA, HARD BOILED EGGS, CHERRY TOMATOES AND FRIED SAGE