We've been pretty much homebound the past couple of weeks, which is par for the course this time of year. Last weekend I had a round of preterm contractions that left us all a bit rattled and motivated; nothing will kick you into gear like thinking your little bundle might just arrive sooner than you expected! I should know by now that that's a possibility since I had similar experiences with the girls. But, alas…
We don't have so much as a bassinet, diapers, or baby wipes in the house – although I do have a laundry basket of clean, folded, newborn clothes tucked away in our closet. It's strange because as much as I want to nest and prepare for our baby's arrival, we still feel somewhat-not-at-home here, and that has made it hard for me to nest and for me to create a space and prepare for the baby. So, while we still have a completely bare nursery with wall to wall mauve carpeting, I allowed those six hours of contractions to motivate me to log in to our Amazon account and get the basics lined up. Slowly but surely the deliveries have started arriving and by the end of the week we'll have our stash of newborn diapers, a new booster seat for Gigi so the babe has her carseat to ride home from the hospital in, and baby wipes. The basics will be covered, and we'll figure out where to go from there as needed. Even though this is my third baby, in so many ways it feels like it's my first.
Another cause for our current lay-low-lifestyle is that the kids have gotten knocked down by their  first major cold of the season. High fevers, coughs, and sore throats call for spending lots of time in our pajamas, making chicken stock, binge watching Curious George, lots of essential oils rubbed on chests and backs, and early bedtimes.
In the midst of our quarantine, we managed to pull together a little Thanksgiving dinner for the four of us on Sunday, and so have been nibbling at leftover stuffing and apple cobbler into the start of the week. But today the Thanksgiving leftovers are gone, and I'm mapping out what to make for the remainder of the week. I have no idea what's for dinner tonight, but I do know that we will be making a loaf of banana bread this afternoon, an activity that has brought me untold comfort in our few months here in England.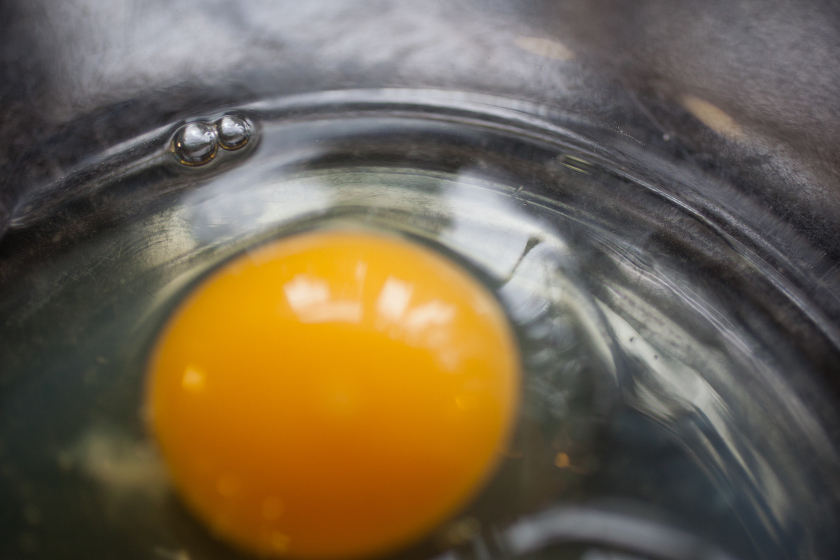 PIN

PIN

Finding little comforts is what I'm all about at the moment. The baby's nursery might not be complete (today or ever), but there will be banana bread. Aside from the one proper cookbook that made the suitcase cut (Mastering the Art of French Cooking), only a few food memoirs came along for the journey. Most notably, and most in rotation, is Molly Wizenberg's wonderful A Homemade Life. I've made her banana bread recipe at least a dozen times since we moved. The recipe calls for chocolate chips and crystallized ginger, and it's great with both, one or the other, or without the edition of either which is how I find myself making it most of the time.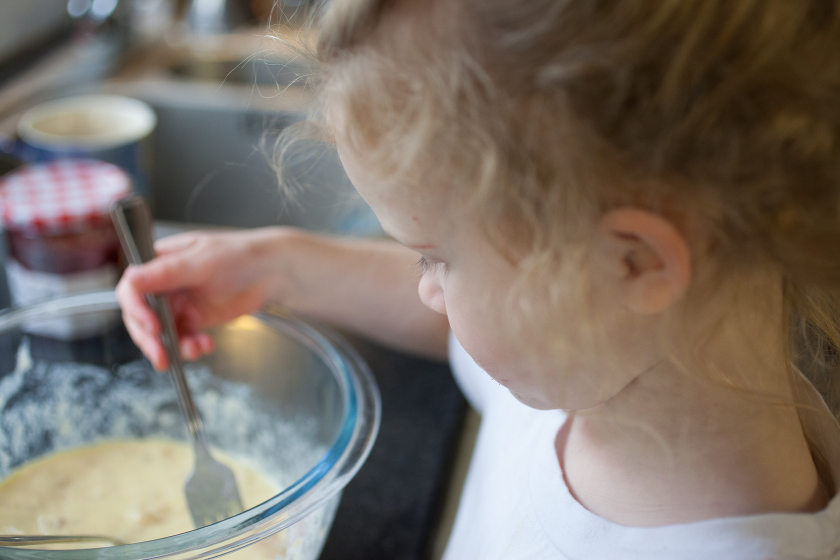 PIN


PIN


PIN

There's something resourceful and comforting about making banana bread – even if you find yourself buying extra bananas just to let them turn overripe on the counter, or find yourself marking perfectly edible bananas with a marker with phrases like "Don't eat me!" and "I'm for banana bread!"

PIN


PIN


PIN

I love the way that banana bread smells when it's baking. I love the way that the recipe for it has become so familiar that I almost don't have to look at it. I love that the ingredients are always on hand as long as you have those bananas at the ready. Mostly, I love that the girls love to make it with me and I feel so much like a "mom" when we are making it together, and even more like a "mom" when we're sitting together eating warm, steaming, fragrant slices of it with glasses of cold milk in the middle of the afternoon… as we will be doing, yet again, about one hour and a half from now.

PIN


PIN


PIN


PIN

MOLLY WIZENBERG'S BANANA BREAD
Ingredients.
6 tablespoons (3 ounces) unsalted butter, melted and then cooled slightly
2 cups all-purpose flour
3/4 cup sugar
3/4 teaspoon baking soda
1/2 teaspoon salt
3/4 cup semisweet chocolate chips
1/3 cup finely chopped crystallized ginger
2 large eggs
1 1/2 cups mashed banana (from about 3 large ripe bananas)
1/4 cup well-stirred whole-milk plain yogurt (not low or nonfat)
1 teaspoon vanilla extract
Directions.
Set a rack in the center of the oven, and preheat to 350F. Grease a standard-sized (about 9 by 5 inches) loaf pan with cooking spray or butter.
In a large bowl, whisk together the flour, sugar, baking soda, and salt. Add the chocolate chips and crystallized ginger and whisk well to combine. Set aside.
In a medium bowl, lightly beat the eggs with a fork. Add the mashed banana, yogurt, melted butter, and vanilla and stir to mix well. (The same fork works fine for this.)
Pour the banana mixture into the dry ingredients, and stir gently with a rubber spatula, scraping down the sides as needed, until just combined. Do not overmix. The batter with be thick and somewhat lumpy, but there should be no unincorporated flour. Scrape the batter into the loaf pan and smooth the top.
Bake into the loaf is a deep shade of golden brown and a toothpick inserted into the center comes out clean, 50 mins to 1 hour. If the loaf seems to be browning too quickly, tent with aluminum foil.
Cool the loaf in the pan on a wire rack for 5 minutes. Then tip out onto the rack, and let it cool completely before slicing – unless you absolutely can't help yourself, in which case, dig in.
PRINTABLE RECIPE.
MOLLY WIZENBERG'S BANANA BREAD
Save
Save
Save
Save
Save
Save
Save
Save
Save
Save
Save