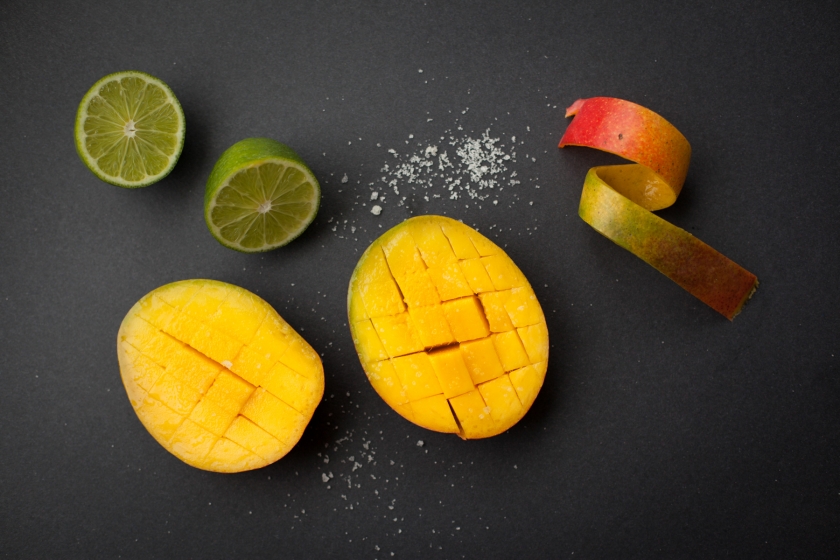 PIN

We have been slaving away in the garden, working hard to get the patio ready for summer barbecues… Hopefully we will get it done this week so we can relax with our friends who are coming to visit this weekend. At the end of a day taking care of the kiddos, playing in the sun, and working outside, nothing is better than this midday snack… a ripe mango topped with a little lime juice and a pinch of fleur de sel. The tart lime and bitter salt balance out the incredible sweetness of the mango. It's one of my favorite things. It simple and refreshing.
MANGO WITH LIME AND FLEUR DE SEL
Ingredients.
1 ripe mango
1 lime
fleur de sel or maldon sea salt
Directions.
To cut the mango, place the mango on it's side so that the pit is vertical on the cutting board. Using a sharp knife, slice down on one side of the pit, then the other. Then, one side at a time, run the knife through the flesh of the mango, scoring horizontally, then vertically, but not slicing into the skin.
Squeeze lime juice over the mango, making sure it runs into the cracks between the fruit segments. Sprinkle the mango with a pinch of fleur de sel.
At this point you can invert the peel and either slice the fruit from the peel into a bowl, or you can simply eat the exposed fruit. I prefer the latter, it feels a bit more indulgent somehow.
PRINTABLE RECIPE.
MANGO WITH LIME AND FLEUR DE SEL