We have a lot to do in the garden. There's plants to be pulled and composted, weeds to pull, the lawn needs to be mowed and trimmed, and the final summer plants need to be harvested. This long, extended summer has gifted us more ripe tomatoes than we would have otherwise had, and even though I harvested all of our basil over Labor Day weekend and made pesto to freeze, the basil plants have burst back to life and we have a lot basil to use. Despite the few more red tomatoes, there are still a lot of green ones that never came around. I'm planning to pickle all those firm, green cherry tomatoes this evening or, more likely, tomorrow since we have been going to bed around 8:30 every night this past week!
We have been so busy that by 8:15 we can barely keep our eyes open. One night we managed to stay up until 9:00 by watching this video of Emma Stone in a lip syncing competition with Jimmy Fallon a few times in a row, but usually we get in bed to read, and after re-reading the same paragraph from the night before we call it quits and turn off the lights. Maybe it's the change in season and my hibernation instinct is kicking in, or maybe it's catching up on sleep deprivation from the crazy summer. Either way sleeping from 8:30pm until 6:30am, mostly uninterrupted, is feeling pretty great and well earned.
Sunday was Kyle's birthday, and his parents were here to visit. Somehow we ended up eating out nearly every day starting Thursday and ending yesterday (although some takeout sounds pretty good for tonight…). At home we are volleying back and forth between fall and summer dishes. One day we're grilling, the next Kyle is talking about baking bread, the following we are making dishes with fresh herbs from the garden, only to end up making a roast the next night. We kind of let our appetites follow the weather which, as fellow Pacific Northwesters are aware, flips from dark, brooding thunderstorms to clear, sunny skies in no time at all during the fall. It's usually around two in the afternoon, when the girls are napping, that I make our dinner commitment. Tonight, we're having Lemon Spaghetti.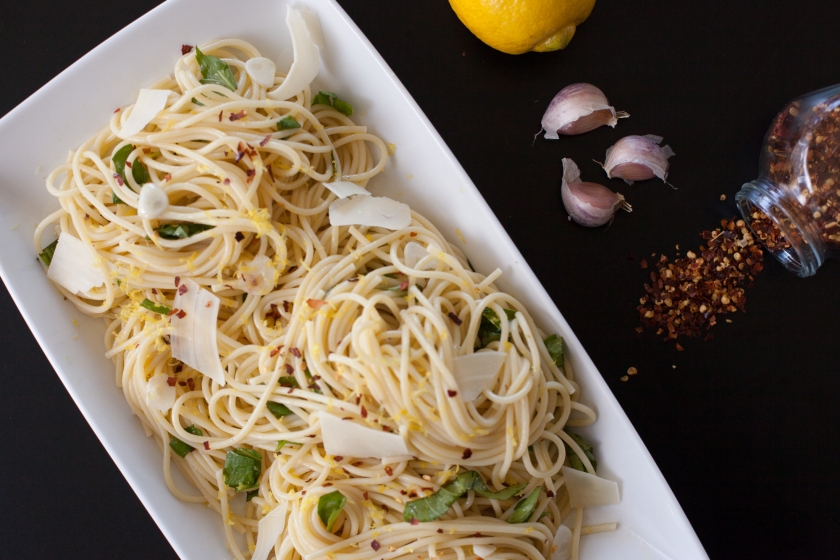 PIN

Lemon Spaghetti was a dish I started making when we lived in Los Angeles. I was in my early twenties and between auditions I nannied. Every Monday morning the mom of the family I nannied for for a year would load up all of the groceries from the refrigerator into paper grocery bags and take them out to their garbage bin, set them in, and then leave for the grocery store where she would purchase all of the groceries for the following week. She threw out everything from the previous week that hadn't been used – even if it was perfectly perfect.
She would head off to Whole Foods, and as soon as her car was out of sight I would open the garbage bin and pull out the grocery bags full of groceries and rescue what could be used: lemons, bread, fresh herbs in little plastic packages, portobello mushrooms, bell peppers, untouched lettuce and micro greens. I'd transfer all that could be saved to a paper bag and put it in the trunk of my car. I still have no idea why she threw out all that food every Monday, but we were barely making ends meet so we used what we could. I bet the neighbors who spied on me out their windows in Sherman Oaks felt really, really sorry for me. But, we ate a lot of wonderful meals from all of that food.
This family also had nine huge flat screen televisions. The television were peppered throughout their relatively large house: one in the entry way, one in the living room, one in each bedroom upstairs, one in the master bath, one outside on the patio, one down by the pool, one in the office. These television were always on. Always. I learned that if I turned the television off, someone would walk by and turn it back on to The Price is Right, Seinfeld, or some other syndicated sitcom, so I stopped turning them off and started changing the channel to the Food Network. This was back in the days when all that was on the Food Network were cooking shows; no reality shows, no cooking competition, no cupcake battles. It was all of Tyler, Giada, and Ina.
As much as I was baffled by the family's grocery shopping habits, and as nuts as having all those televisions on made me, I don't know if I would have been drawn to cooking if I hadn't spent a whole year working for them. I learned so much about the basics of cooking, chopping, and ingredients from watching the Food Network at their house; and we certainly benefited from all of those tossed groceries. I didn't have much, if any, control over my acting opportunities so cooking became, and still is, my favorite creative outlet.
I didn't even cook very much at first, I just found that it was the only channel that didn't drive me insane 4-6 hours straight, 5 days a week. I wasn't allowed to take their tot to the park, or leave the house, so during the few hours that I spent watching their baby, I'd listen and watch the Food Network and dream up dishes to make with my fancy, expensive, organic garbage-finds. One of my favorite shows to watch, and to grab recipes from, was Giada de Laurentiis's Everyday Italian. She usually cooked simple, fresh dishes, that I was able to remember the gist of even if I couldn't grab a crayon fast enough to write it all down. One Monday evening after returning home from my day job, I pulled lemons and fresh basil from my rescued bag of produce, and made something close to the Everyday Italian version of Lemon Spaghetti.
Lemon Spaghetti became, and remains, a staple in our spring-early fall menus. It is wonderfully flavorful, and incredibly simple to make. It's something that our whole family loves. Luckily, I don't have to forage for any of the ingredients in the trash (not that I'd be above it if the circumstances were right). All you need is some spaghetti, lemon, fresh basil, garlic, olive oil, and red pepper flakes! We often serve this alongside a small, bright salad or garlicky roasted chicken. It also makes a great leftover lunch too!
LEMON SPAGHETTI
Ingredients.
1 lb spaghetti or thin spaghetti
1/2 cup fresh squeezed lemon juice
1/2 cup extra virgin olive oil
1 large garlic clove, very thinly sliced
kosher salt
1/2 teaspoon red pepper flakes
zest of 1 lemon
shaved Parmesan cheese
large handful of basil, thinly sliced or torn
Directions.
Heat 1/4 olive oil in a small saucepan over medium heat. Add the garlic and allow the garlic to cook for only 30 seconds. Remove the pan from the heat and wait an additional 30 seconds before transferring the garlic and oil to a glass dish. Add the other 1/4 cup of olive oil to the garlicky oil, and set aside to cool.
Bring a large pot of salted water to a boil. Cook your spaghetti until al dente. Drain and rinse with cold water until the pasta is cooled. Transfer to a large bowl.
Add 1/2 cup of lemon juice to the dish with the olive oil and season to taste with kosher salt. Toss the dressing in with the pasta and toss to combine. Allow it to sit for about ten or fifteen minutes, tossing a few times, so the pasta absorbs some of the dressing.
Transfer the pasta to a serving dish. Sprinkle with red pepper flakes, lemon zest, plenty of Parmesan, and basil.
Enjoy immediately.
PRINTABLE RECIPE.
LEMON SPAGHETTI