30 SECOND INTERVALS…
Lulu has become fascinated with my laptop. Anytime I'm using it, like now, she's right by my side, laughing hysterically, jabbering nonsensically, and saying, "Dee-doo!" (thank you) over and over, which is how she let's you know she wants something. It's pretty darn cute, but also pretty distracting. I attempt to sidetrack her in the way that you might distract a not-so-bright puppy, by tossing toys onto the carpet behind her, hoping to entice her into a game of "fetch" that will allow me to get things done in 30 second intervals. It's not working very well. We don't have a big agenda for the day so I'm enjoying her antics quite a bit.
It's a rainy, grey Friday morning here and I'm kind of happy about it. What I really want to do today is put on jeans and a sweater and get things organized and cleaned up from the week. We had a pretty quiet week, actually, which means that the house is in a state where I might be able to get it properly clean, as opposed to most other busy weeks where I can just manage to get it somewhat picked up at the end of the week. What I really want to do is to fold laundry during nap time while watching You've Got Mail and English Breakfast tea; clean our bedroom and spritz lavender oil on our freshly-made bed; organize the laundry room… pretty thrilling stuff.
At some point today we do need to go to the grocery store since at this point in the week we've run out of everything. We don't even have cheese which means that most "random pantry meals" in my repertoire are out of question. Besides that, while I don't mind a good panty raid, I certainly don't feel inspired by it. One of the reasons I love to cook is that I am a goal-oriented person and having a meals planned, preferably things that's exciting or creative or challenging, helps me stay focused and energized throughout the day.
With that, I'm signing off for a quiet, productive day with the girls, followed by a fun, relaxing weekend with the whole family. But I'm leaving you with my new favorite recipe, something we've made quite a few times already this season and a new cooking video for the recipe! It may in fact be another tartine! Are you sick of them yet? I hope not because I have more heading your way in the coming weeks.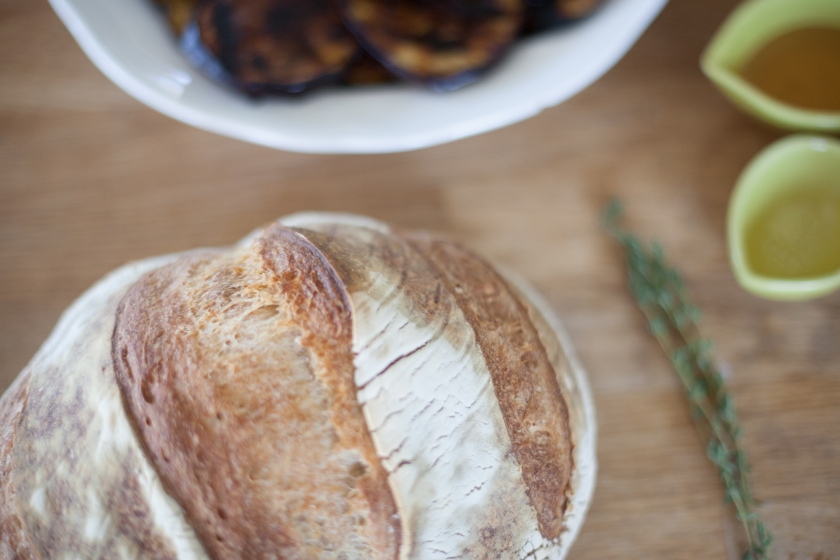 PIN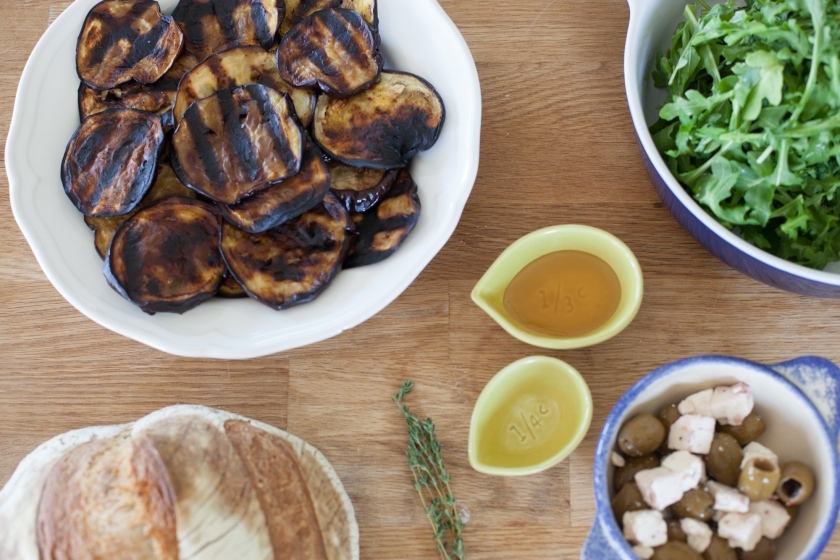 PIN

These Grilled Eggplant Tartines with Arugula, Feta, Green Olives and Honey was inspired by a Spilled Milk Podcast on eggplants I listened to months ago in which the combination of eggplant, feta, green olives, and honey was mentioned. Since I'm tartine obsessed these days, my brain naturally went in that direction. By adding a thyme-spiked aoili and some bright, bitter arugula, I created a delicious sandwich that offers a great marriage of some wonderful Greek flavors. This makes a great vegetarian lunch or dinner, and is perfect paired with a chilled glass of white wine, like a Grüner; or a great Pinot Noir. The ingredients for these sandwiches can be made ahead of time and pulled together, and easily assembled when you're ready for a meal!
GRILLED EGGPLANT TARTINES WITH ARUGULA, FETA, GREEN OLIVES AND HONEY
Ingredients.
loaf of french bread, sliced
two medium eggplants, sliced into 1/4 inch discs
baby arugula
1/4 cup mayonnaise
a pinch of fresh thyme
feta cheese
green olives, thinly sliced
extra virgin olive oil
honey
kosher salt
freshly ground black pepper
Directions.
Lay the eggplant slices out on paper towels or thin dishtowels. Sprinkle the slices of eggplant with a tiny bit of kosher salt, flip and repeat. Lay another layer of towels over the top of the eggplant slices. Place a large roasting pan, with a heavy cookbook on top, to help press out a bit of the moisture for twenty minutes. Paint or drizzle both sides of the eggplant with a bit of olive oil and grill on medium high heat until nicely browned. Set them aside and allow them to cool a little while you prepare the rest of your ingredients.
In a small bowl whisk together the mayonnaise with the thyme and a couple tablespoons of olive oil and a little pepper. Smear a very thin layer of the aioli onto your toasts, and pop them under the broiler until they are slightly bubbly and golden. Remove them from the oven and allow them to cool.
Spread the rest of the aioli on the cooled toasts, top them each with a small handful of arugula, a few slices of eggplant, some crumbled feta, and sliced olives. Finally, drizzle each toast with a little slightly warmed honey, olive oil, and a little freshly ground black pepper.
Serves 4-6.
PRINTABLE RECIPE.
GRILLED EGGPLANT TARTINE WITH ARUGULA, FETA, GREEN OLIVES, AND HONEY

And, now, enjoy our cooking video for Grilled Eggplant Tartines!
GRILLED EGGPLANT TARTINE from withlovekacie on Vimeo.