I love simple, summer food. I love the lack of preparation involved, I love that whatever you make can be eaten at room temperature and still hold up as a delicious, fresh meal. I don't know if it's having a newborn… is it still considered having a newborn when they reach six months old? Well, either way, I feel like I still have a newborn.
Right now I'm watching the girls ride their bikes in circles on the big back porch; Lulu is still in her pajamas, and G is wearing some odd sort of mismatched outfit that she pulled on this morning. It's nearing lunch time and, although we've done our school lesson for the day, I wouldn't say that any of us are particularly awake. This is somehow all in spite of the fact that Roux slept from 9pm to 4:30am on his own in his travel cot – something he doesn't normally do.
So, here I sit, sipping tea, thinking about the breakfast I may be too late for, and the lunch I should get up and make, and very vaguely about what I might make for dinner. In our time here in England I've gone through lots of "meal phases". I find something that works and is easy and then I just make it repetitively until I get tired and move on to something else. In the fall it was White Bean Soup, in the winter it was Roasted Chicken and Potatoes, in the spring it was Roasted Cauliflower, and I have a feeling this will be the summer of the Garlicky Spinach Flatbread with Feta, Lemon Zest, and Sunflower Seeds.
This flatbread was inspired by a pizza my mom used to order from a local pizza place when we were kids that had the pleasing combination of spinach, feta, and sunflower seeds along with lots of cheese and other vegetables. I was searching for something for dinner and wanted to make a sort of easy pizza to compliment the sunshine we'd had the pleasure of spending all day playing in. We had a lot of spinach we'd gathered from the local u-pick farm, Kyle was working late, and I quickly kneaded together some dough (I use this pizza dough recipe from The Kitchn), and gently simmered my shaved garlic cloves in olive oil. With those parts prepped, the rest of dinner promised to be easy to pull together with a teething babe on my hip and a glass of cab in my hand.
The key is to roll the flatbread out really thin. I triple the pizza dough recipe, but use it to make 4-5 thin pizzas. The edges get crisp, the feta and sunflower seeds get toasted and browned, the spinach shrivels up and start to burn around the edges. Brightness from a sprinkling of lemon zest and fresh thyme bring the whole thing wonderfully together to be enjoyed with a bit (more) wine still piping hot or at room temperature – whatever your evening dictates.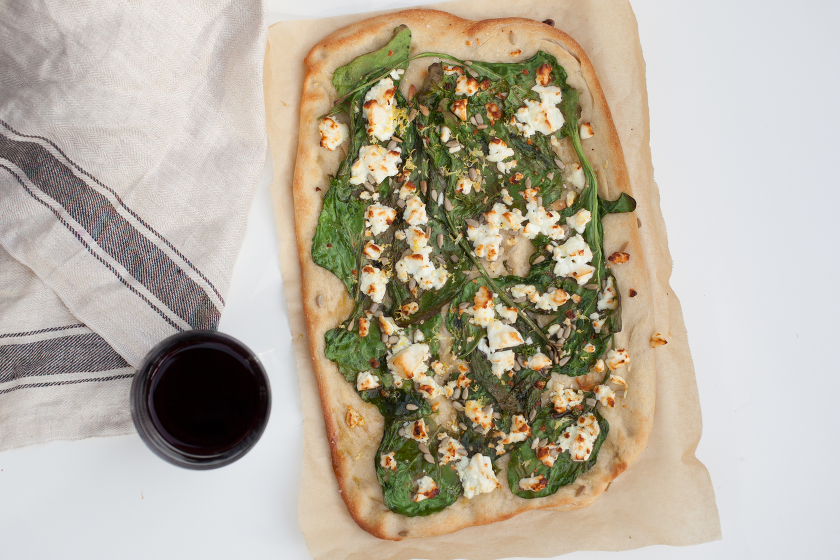 PIN


PIN


PIN


PIN


PIN


PIN

GARLIC SPINACH FLATBREAD WITH FETA, LEMON ZEST, AND SUNFLOWER SEEDS
This flatbread pizza is intensely garlicky, covered with frizzled spinach, toasted feta and sunflower seeds, and finished with a sprinkling of lemon zest and fresh thyme. I use the pizza dough recipe from The Kitchn (included below), I've tripled it for you. I roll the dough very thin – making 4-5 flatbreads from the tripled recipe. Adjust the recipe as needed for how many people you're feeding! The flatbreads are pretty light so four is about the right number for our family.
Pizza Dough Ingredients.
6 cups all purpose flour
4 1/2 teaspoons fine salt
3 teaspoons active dry yeast
18oz lukewarm water
Pizza Dough Directions.
Whisk together the flour and salt in a large bowl. Add the yeast to the lukewarm water and allow it to dissolve. Once it's dissolved add it to the flour and mix with a wooden spoon until it forms a shaggy dough. Turn the dough out onto the counter and knead for about 5-10 minutes, until the dough is springy and tight – adding a little more flour as needed if it's too sticky.
Coat a large bowl with a little olive oil and place the dough in the bowl. Cover with plastic wrap and put it somewhere warm to rise. When the dough has doubled in size (about an hour) it is ready to use.
Ingredients.
1 cup extra virgin olive oil
6 cloves garlic, very thinly sliced
lots of fresh spinach
8 oz feta cheese, crumbled
1/4 cup sunflower seeds
zest from one lemon
a few springs of fresh thyme, roughly minced
flake salt
fresh black pepper or red pepper flakes
Directions.
Warm the olive oil in a small saucepan over low heat. Add in the garlic cloves and allow the garlic to very gently simmer in the oil for a few minutes – just until fragrant and sweet – before turning off the heat and allowing the oil to cool.
Preheat the oven to as hot last it will go 400-500ºF is ideal.
Line a cookie sheet with parchment paper and lightly oil it. Roll out 1/4 of your dough as thing as you can and place it on the oiled parchment paper. Spoon about 3-4 tablespoons of the garlicky oil and about 1/4 of the garlic onto the dough, spreading it evenly. Season the pizza with a little flake salt, and either black or red pepper.
Top the oil with a single layer of spinach leaves, sprinkle with a couple ounces of feta, and about a tablespoon of sunflower seeds. Cook the flatbread for about 12-15 minutes, until the edges are browned, the spinach has wilted and begun to char, and the feta and sunflower seeds are toasted and golden.
Remove the pizza from the oven, drizzle it with a little more garlic oil, and sprinkle with a bit of lemon zest and fresh thyme. Repeat with the remaining ingredients. Slice and enjoy!
PRINTABLE RECIPE.
GARLIC SPINACH FLATBREAD WITH FETA, LEMON ZEST, AND SUNFLOWER SEEDS
Save
Save
Save