A STATE OF FLUX…
Everything is in transition and I feel like we are being pulled, slowly but surely, in new directions as autumn makes it's ever-so-slow appearance. Our friend's who are teachers are heading back to the classroom, kids are getting their chlorine-damaged, summer hair cut and shopping for back to school clothes, and the days are noticeably shorter. We still get to sleep with our window cracked and I can sometimes smell a wood fire smoke from someone's fireplace nearby. It's supposed to be in the 90's today, so fall is clearly in no rush to take it's place, but it is coming.
My family is in transition too, or our children are anyway. Gigi suddenly looks so tall, and sooner than later she'll be four! She's going through a interesting phase right now: testing the boundaries, negotiating a lot, often telling me, "I can do it myself. I'm really big." Which she is. She gets herself dressed most days and sometimes it's close to nap time before I realize she's had her underwear on sideways or backwards or inside out. When I point it out she'll say, "That's okay. It's comfortable. I like it that way." We started reading a chapter book aloud together and while I read to her she wiggles her head in on my shoulder and sucks on her blankie and the little "click-click-click" of her sucking reminds me that she's still very little, in spite of her growth spurt and self-awareness.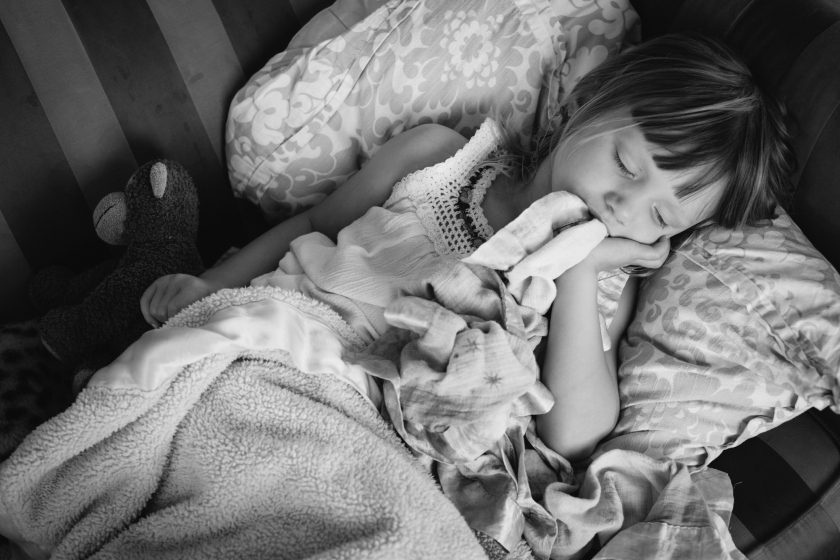 PIN

Little Miss Lulu is making her way from babyhood into toddlerhood. She took her first steps and is now cruising somewhat-steadily around the house. She is one opinionated little tot – she has even started picking out what clothes she wants to wear. She will walk to her drawer and throw things out onto the floor until she finds the thing she wants and then she will push it into my hands and grunt, "Ehh ehh ehh!" Needless to say we are working on the sign for "please". Lulu is adventurous and spirited and so, so funny.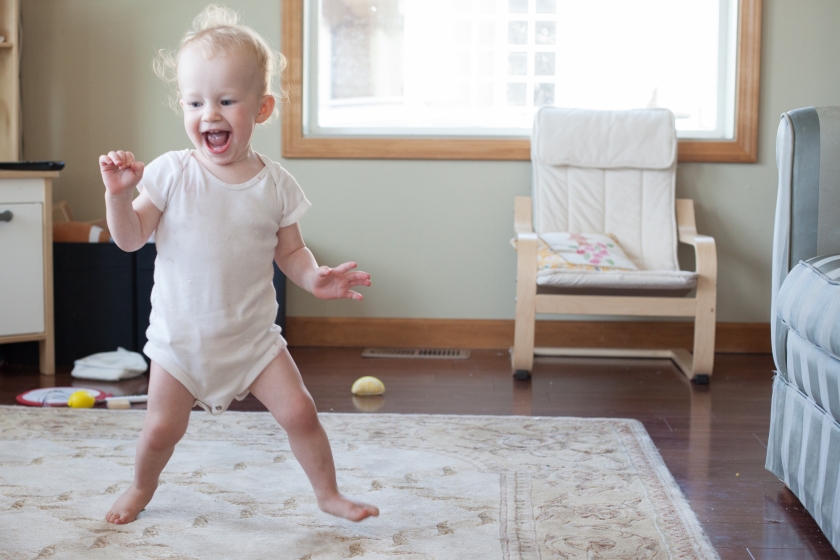 PIN

Our home is also in transition as I continue on my path of simplifying. You should see the pile that is growing in the garage for donating! I can't be stopped! We now have twelve and a half empty drawers throughout out home! Twelve! I'm just going through and getting rid of things and moving things about and making room. The next phase will be to fill the drawers with the things that survive my sweep. I am chipping away at the project, as you know I've been working at it for months! It's all starting to make a real difference; a difference we can see and feel, and that is really exciting.
Our sweet little garden is in a state of flux as well. We have planted sections of the garden beds with cool weather crops. We've planted beets, carrots, raddichio (per Gigi's request), butternut squash, bok choy, napa cabbage, and more carrots, romaine and butterhead lettuce, and kale. We still have some of our summer crop offering up it's bounty: we still have loads of kale, pickling cucumbers, summer squash, and cherry tomatoes. If this summer continues it's slow transition we may actually see some of our Roma tomatoes turn color!
We have so many cherry tomatoes I can't say I'm disappointed with our tomato plants this year, even though only one out of four seems to have really come through. We have sweet, plump cherry tomatoes ripening daily. Some days I pluck a dozen; last night Kyle harvested close to forty! My favorite thing is to wander out while the girls are napping and find the deepest red ones and pop them in my mouth right there in the garden. Standing in the grass with bare feet, eating sun-warmed tomatoes straight from the vine is my kind of luxury.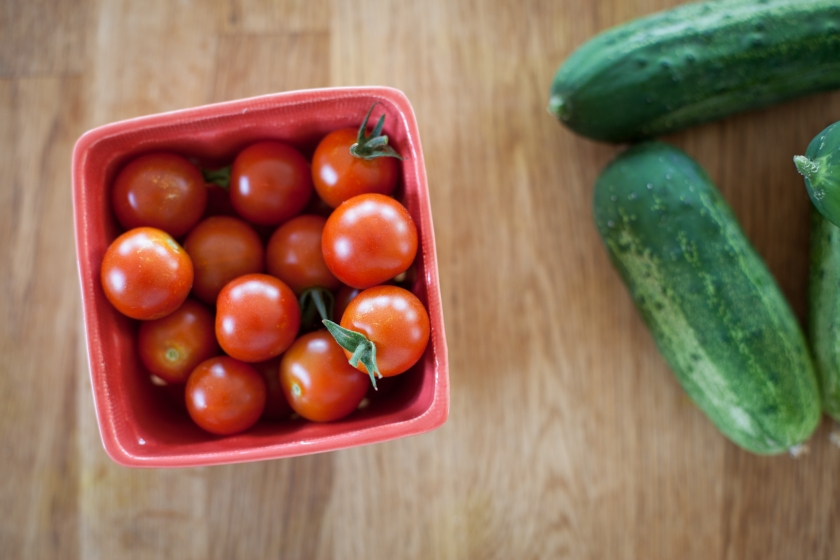 PIN

It is amazing to me that one plant, whether it's our impressively producing cucumber plants, our silky heads of lettuce, our never-ending kale, or our bright, bursting tomatoes each started with one tiny seed. That one pack of those tiny seeds that costs a couple dollars can feed us so many meals through so many months is astonishing and a little humbling. At this particular time we have so many cucumbers and tomatoes, we also have harvested an impressive number of Torpedo Onions. Torpedo Onions are mild, sweet heirloom onions. I thought I was planting shallots but, no, I was planting giant, beautiful, Torpedo Onions. I've been throwing together a very simple salad using the cucumbers, tomatoes and onion. The salad follows along in the Greek tomato-cucumber-onion-feta tradition but I love making a simple, tart vinaigrette and then showering the salad with lots of fresh tarragon (of which we also have plenty)! If you can't find the Torpedo Onions, which you may stumble across at a farmers' market, you can use a bit of shallot or any mild, sweet red onion.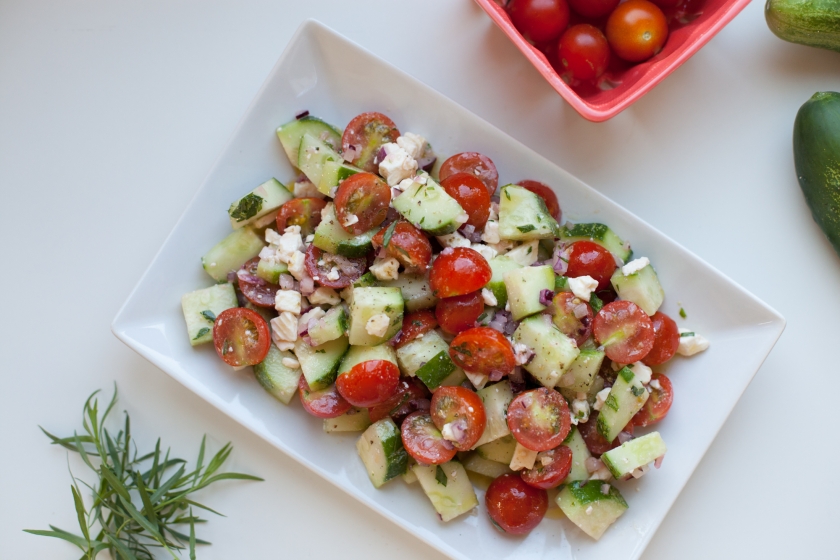 PIN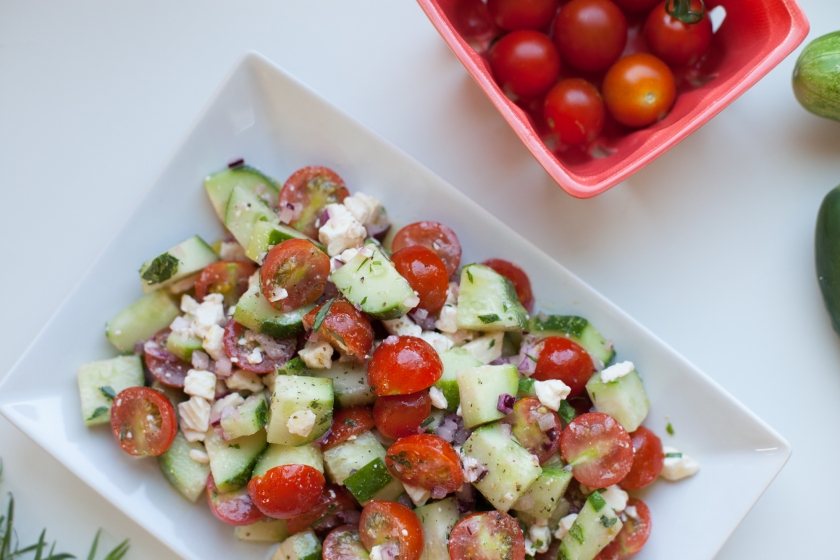 PIN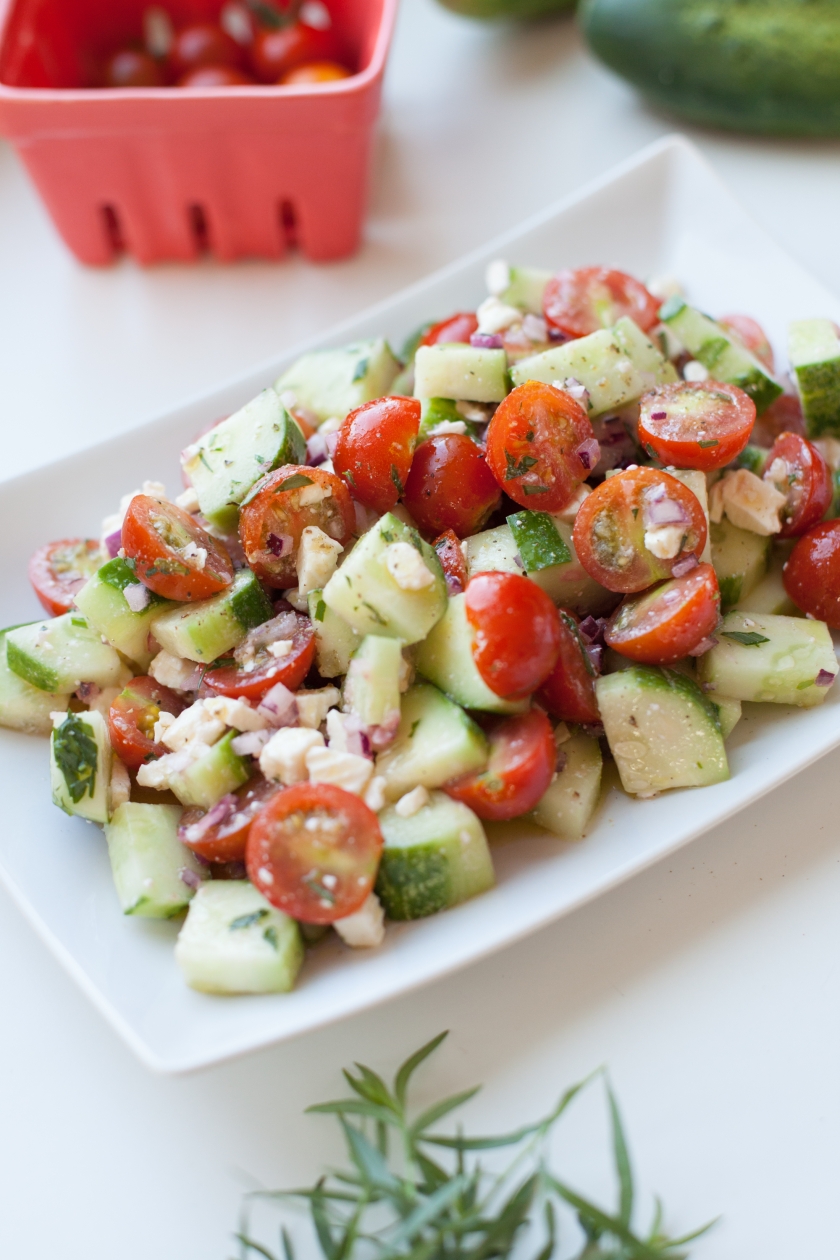 PIN

This simple salad is a wonderful lunch, or as a side for anything grilled. It would be great alongside some seasoned and grilled eggplant! We will definitely be planting eggplant next year! But enough about all of that… I've got to go water the garden and get ready to make some salsa, pesto, and pickle some jalapeños and Torpedo Onions.
CUCUMBER AND CHERRY TOMATO SALAD WITH RED ONION AND TARRAGON
Ingredients.
3 cups cucumber, chopped (partially or fully peel them if the skin is bitter)
1 pint cherry tomatoes, halved
1/2 cup 
crumbled feta
1 tablespoon fresh tarragon, roughly chopped
1/4 sweet red onion or shallot, finely minced
2 tablespoon fresh lemon juice
1/4 cup extra virgin olive oil
kosher salt
freshly ground black pepper
Directions.
In a medium bowl, toss together the cucumber, tomatoes, feta, onion/shallot and tarragon.
Squeeze the lemon juice into a small bowl, slowly whisk in the olive oil. Season to taste with salt and pepper.
Drizzle plenty of the dressing onto the salad, toss well, and serve!
Serves 2 as a lunch, 4 as a side.
PRINTABLE RECIPE.
CUCUMBER AND CHERRY TOMATO SALAD WITH RED ONION AND TARRAGON