Last week was unpredictable, busy, fun and exhausting. For some reason Lulu and I was a real klutzes which added to the unpredictable tone of the week. We woke up on Saturday morning to a filthy house. I spent the week grocery shopping (I dropped and broke some eggs), working on a recipe for a magazine, cooking wonderful dishes from My Paris Kitchen, picking up silly toys for our upcoming road trip at the dollar store (where Lulu knocked over a display of puzzles), replying to photography emails, and attempting to be a great mom, wife, and housekeeper.
In all the business, the housekeeping was the first thing to go… as evidence by the popcorn and banana chips scattered all over the living room for on Saturday morning. Nothing says, "Time to clean up!", like a banana chip stuck to your sock at 7am. But instead of cleaning we decided to have fun and clean on Sunday instead. We took the kids to a fun, interactive museum (where I knocked over a wooden balance puzzle), and went out to a local brewery for lunch (where Lulu dumped a big glass of water directly into my lap). Sometimes the answer is simple: having fun > than cleaning. We got around to cleaning eventually and are starting off this week with a very tidy, cozy house.
My plan for this week is to keep things simple and tidy so as to swing the pendulum back away from work and over to the mom/wife/housekeeper side of things. After cooking elaborate meals this past week, I've opted to keep this upcoming weeks' menu as simple as possible. I love picking up the crispest, freshest vegetables at the store and creating an easy lunch from them. My favorite way to serve them is to simply clean, dry, and trim them, lay them on a parchment lined tray and whip up a couple simple dips and set them on the table. It's nice to have a simple, light lunch as I tend to make more elaborate, richer dinners.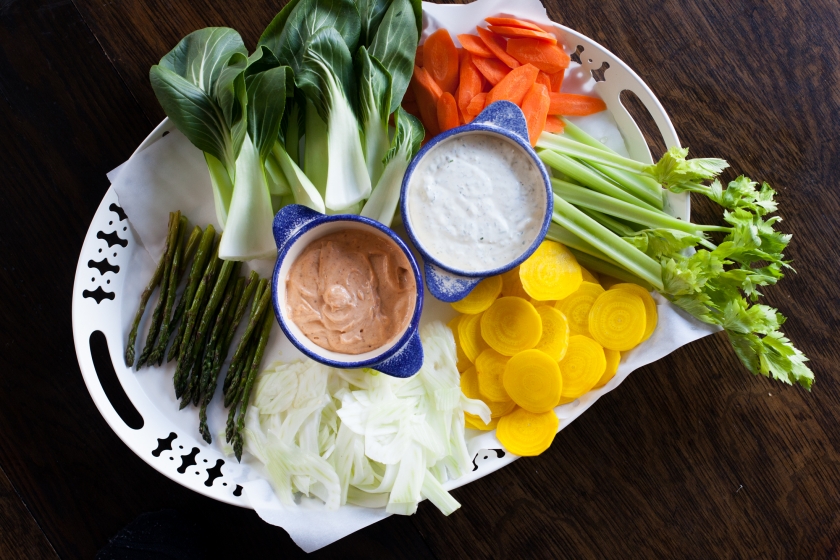 PIN

There are so many wonderful options for raw vegetables that branch out from the boring broccoli, cauliflower, baby carrot spread. I opt for fun, colorful raw bok choy, radishes, endives, thinly sliced beets, fennel, snap peas, radishes, radicchio, and carrots. Sometimes, I'll grab a bunch of asparagus, toss them in olive oil, and pop them under the broiler for a few minutes. As for the dips, I'll often use what I have on hand in the fridge: a bit of harissa whipped into mayonnaise to create a quick "aioli", or blend some scallion and herbs together with a palmful of capers, sour cream, and buttermilk for a bright, salty dip. If you find yourself with leftover, sliced vegetables and dip they can be transformed into a salad with some torn lettuce and a couple of halved hard boiled eggs, few rounds of crips pancetta, a handful of fresh herbs, and a simple vinaigrette! The idea is to keep it simple and have fun. At least that's my plan for this week.
CRUDITES WITH HARISSA AIOLI AND CAPER BUTTERMILK DIP
Ingredients.*
1 golden beet, washed, peeled, and very thinly sliced
1-2 small bunches baby bok choy, trimmed, and washed
1-2 carrots, peeled and thinly sliced on the bias
center celery stalks, trimmed and cleaned
1 fennel bulb, trimmed, cleaned, and very thinly sliced
a handful of asparagus, washed and trimmed
*use any variety of vegetables you wish! Other great options: peas, endives, snap peas, radishes, radicchio, etc.
Directions.
If you're using anything like asparagus, toss it on a baking sheet with olive oil, a pinch of kosher salt and fresh pepper, and pop it under the broiler for a few minutes until it brightens and crisps.
Simply plate all of your veggies on a parchment lined tray along with the dips.
Harissa Aioli Ingredients.
1 cup mayonnaise
1/2-1 tablespoon harissa paste
1 tablespoon olive oil
kosher salt (if needed)
Directions.
In a small bowl whisk together the mayonnaise and harissa, starting with less and add more depending on the spiciness of your paste. Then, while whisking continuous, drizzle in the olive oil. Taste and season with salt if needed.
Caper Buttermilk Dip Ingredients.
1/2 cup mayonnaise
1/2 cup sour cream
2 tablespoons buttermilk
1 teaspoon Dijon mustard
1/4 Italian flat leaf parsley
1-2 scallions, trimmed and roughly chopped
Directions.
Toss all of the dip ingredients into a small food processor and blend until smooth. Transfer to a small bowl.
PRINTABLE RECIPE.
CRUDITES WITH HARISSA AIOLI AND CAPER BUTTERMILK DIP