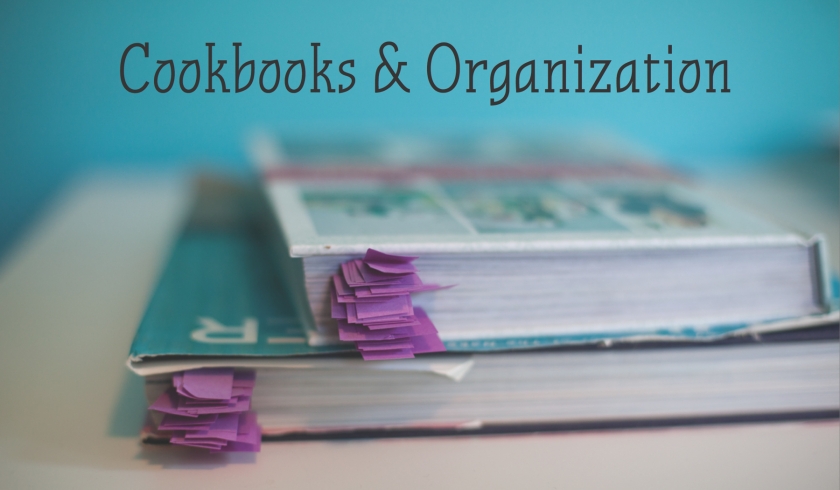 PIN

Menu Planning // Step One
One issue I continuously had when menu planning was that I can't always find the time to browse through my cookbooks for inspiration and recipe ideas. Before we had Gigi, Kyle and I would spend our Sunday morning in bed, with our cookbooks and our coffee, making a menu for the week… now I need this process to be much more efficient. I used to plan for a week at a time but I personally find that doing a month at a time makes it so much easier, takes less time, and helps me keep our whole month's budget in mind.
I went through every cookbook we owned, one at a time, using little Post-It's to flag the recipes that looked good, that I regularly made, or that I had always wanted to make. If I went through a cookbook and only found one of two recipes that I liked/used I just put that cookbook in the pile for a the used bookstore… there are so many amazing cookbooks and recipes and streamlining the number of cookbooks I had really helped this process.
THEN I went through the cookbooks and typed all the recipe titles into the following categories: Breakfast. Lunch. Snack. Dinner (split into entrees/sides and main courses). Dessert. Drinks. Basics and Techniques. I also created hyperlinks in my document to my favorite food blogs. You could create as many or as few categories as you need for your family. Since I'm a stay at home mama who loves to cook (and eat) I needed all of them! Each section is divided up with headings for each cookbook. For example under BREAKFAST I have six different cookbooks that I took recipes from.
The BREAKFAST section looks like this:
BREAKFAST

My Father's Daughters.Gwyneth Paltrow

sweet rice bowl GP.236
morning pancakes GP. 221
spiced apple crumb muffins GP.224
favorite granola GP.227
bruce's world-famous pancakes GP.239


Sprouted Kitchen.Sarah Forte

breakfast tostadas SK.28
scrambled eggs and leeks SK.32
vegetable eggs benedict SK.31
softly scrambled eggs with creamy leeks SK.32
carrot-date muffins SK.34
creamy coconut barley with pomegranate molasses SK.39
tofu quiche in rosemary-almond meal crust SK.44
granola protein bars SK.154
green smoothie SK.162
…you get the idea. I gave each cookbook and a code before the page number so when I'm menu planning I don't have to write our "Sprouted Kitchen" every time, just SK and the page number!
This process took a couple of weeks to complete but it was really enjoyable, I made tea and flipped through my beloved cookbooks with a stack of Post-It's at hand. Admittedly putting them into a document on the computer felt a little tedious but I just I tackled one cookbook every other day or so and now that it's done I've found that the menu creating process is really fast and filled with variety.
Here is a list of my current cookbooks:
My Father's Daughter // Gwyneth Paltrow
It's All Good // Gwyneth Paltrow
The Sprouted Kitchen // Sarah Forte
Start Fresh // Tyler Florence
Super Natural Every Day // Hedid Swanson
Joy the Baker // Joy Wilson
Very Fond of Food // Sophie Dahl
Spain: A Culinary Road Trip // Mario Batali
Tyler's Ultimate // Tyler Florence
Jamie's Kitchen // Jamie Oliver
Everyday Italian // Giada de Laurentiis
I also have some bigger cookbooks like America's Test/Cook's Illustrated Kitchen Family Cookbook, Interational Recipes, and New Best Recipes. I also have Mastering the Art of French Cooking and The Joy of Cooking. I didn't go through these since they are so packed with recipes. I tend to reference them as needed or when I'm looking for something specific.
Some cookbooks on my wishlist:
Miss Dahl's Voluptuous Delights: Recipes for Every Season, Mood, and Appetite
Tender: A Cook and His Vegetable Patch
The Art of Simple Food: Notes, Lessons, and Recipes from a Delicious Revolution
Plenty: Vibrant Recipes from London's Ottolenghi
The Smitten Kitchen Cookbook
What Katie Ate: Recipes and Other Bits and Pieces
It's All Good: Delicious, Easy Recipes That Will Make You Look Good and Feel Great
Miette: Recipes from San Francisco's Most Charming Pastry Shop
The Sugar Cube: 50 Deliciously Twisted Treats from the Sweetest Little Food Cart on the Planet
Tartine
Home Made
Bouchon Bakery
…and so many more! What are your favorite cookbooks?
My favorite food blogs:
Gorge in the Gorge
 (this is my food blog so i use a lot of recipes from here!)
GOOP
Joy the Baker
Orangette
101 Cookbooks

Call Me Cupcake

Cannelle et Vanille

Dinner or Dessert

La Domestique

Love and Olive Oil

Naturally Ella

Not Without Salt

Reclaiming Provincial

Smitten Kitchen

Sprouted Kitchen

Sunday Suppers

Tartelette

The Forest Feast
What Katie Ate