I have been asked so many times by my friends (and lots of readers) about my experience with cloth diapering, and specifically about my experience using the Bum Genius 4.0 Snap Diapers. I created this post when Gigi was about 1 1/2, and have updated it now that we've gone through the process twice! So here is a post all about cloth diapering…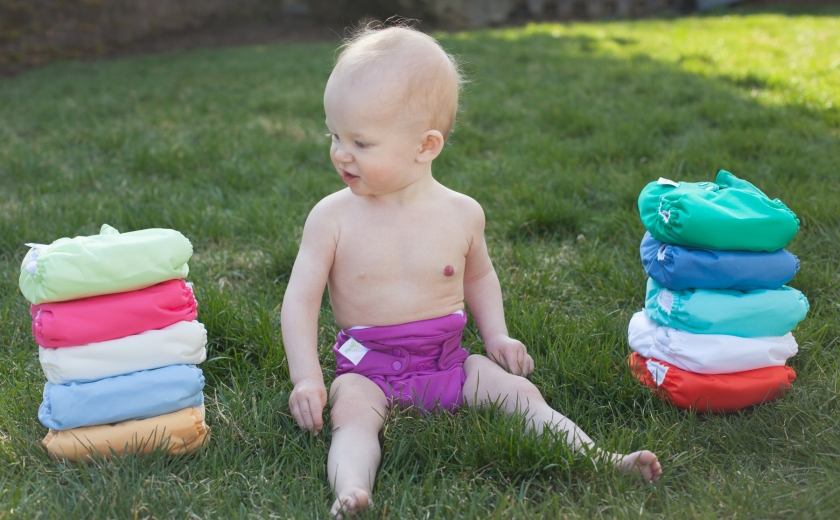 PIN

Why We Use Cloth Diapers:
1. Money: From what I researched the average child is diapered about 7,000 times. Disposables cost about 25 cents each. In the end we would have ended up spending close to $2,000 per child on disposable diapers.The Bum Genius 4.0 diapers cost about $17 each when you buy the 24 pack for $400. The comparable cost (at 7,000 uses) makes the cloth diapers 5 cents each and they can be used for multiple children. Even with the added cost of energy and detergent (about $200 a year with a HE washer), it's still so much lower. That's $600 vs. $3,000!
*We do always keep current-sized disposables on hand.
2. Environment: I couldn't stand the thought of throwing away 7,000 disposable diapers over the next two years (and that's per child). We use environmentally friendly laundry soap and we air dry the diapers.
Other Pros:
-Less leaks: they don't leak very often (and when they do there's usually a solvable solution).
-They're cute: they come in cute colors that make the online shopper in me excited.
-They are easy: once you get a hang of a system they are easy to wash, dry, and stuff.
And Now, The Cons:
-Big and bulky: they are bulky to pack in the diaper bag. I use my large purse a diaper bag and I'm sometimes frustrated with all the space they take up.
-Tricky travel: traveling long distances can be hard. It's no fun to be dealing with them on a trip. When we can afford it, we buy disposables for traveling.
-They can start holding odor, and they can all start leaking at once and need to be stripped (notes below).
-Poop is gross: you do have to handle these diapers quite a bit more than disposable and sometimes it's just plain disgusting.
-Sometimes, even with extra washing, they get a funky smell as soon as they are peed in.
Diaper Choice:
For the first two months with both girls, we used the Pampers Newborn Swaddlers. They are amazing. There are newborn cloth diaper options but, for us, the Newborn Swaddlers were the best choice. We did try a couple other newborn brands but found these specific diapers to be the best.
Our personal experience with the Bum Genius 4.0 Pocket Diapers with Snaps has been great. They fit Gigi well and I love the colors. They are also a little less bulky than some of the other brands. That being said, I have friends who use and love the following: Fuzzibunz (great for chunkier babies because they have adjustable leg openings).
Where To Buy – Diaper Junction:
PIN


I wrote about our experience with Diaper Junction before but I'll say it again, they are awesome! It's a small company run by sisters, Robyn and Valerie. Their 30 Day Test Drive program is fantastic. You can try all different kinds of diapers and return the ones that don't work. We originially tried the Fuzzibunz, Rumparooz, and Bum Genius with Velcro, and Bum Genius with Snaps. We sent back the others and used the store credit to buy all of our Bum Genius Diapers 4.0 with Snaps. They sell gift certificates and have a gift registry. We got a few gift certificates when we were expecting and it was great, when we were ready we had money in our account to buy our diapers. Their customer service is fantastic. They are always available to answer questions or help you troubleshoot a problem. I really have nothing but wonderful things to say about our experience with them.
What You Need:
What is a Pocket Diaper:
A Pocket Diaper (like the Bum Genius 4.0) comes with 3 parts: Liner, Insert, Newborn/Secondary Insert. You get all three pieces with every diaper you purchase. We use the main Insert alone most of the time but add the Newborn/Secondary Insert for long naps, car trips, and at bedtime.


PIN

A drying rack.
We got this one at Ikea for $20 years ago and we use it for diapers and line dry stuff. It's lightweight and colapses easily so you can put it away. I also recently purchased a clothes line for our yard and love that too.
A storage spot bin.
We got these Ikea storage boxes for $5 and use them for diapers, toys, and stuffed animals.
Diaper liners.
I made really quickly from scrap flannel but you can also use rectangles of fleece. The fleece doesn't need to be sewn, just cut it and use it. I would recommend using a colorful fabric! We accidentally toss our white ones out with the wipes. You can also buy them here. You need to use these every time you use diaper rash cream. Since diaper rash cream creates a water barrier it will clog up your cloth diapers and cause them to leak. When Gigi has really bad diaper rash, we find that switching to disposables for a day or two does the trick. Disposables really wick the moisture away from the skin a bit better than the cloth diapers do, but using a flannel or fleece liner should help too. You can buy some diaper creams that are approved for cloth diapers.
Detergents for Cloth Diapers.
You can find a great list of the best detergents for cloth diapers here. We use a homemade soap-free detergent (will share soon) and it works great. Bleach and color safe bleach. (Some diapers cannot be washed with bleach so make sure to check).
Dish Soap.
Helps break up build up on the diapers. (More on stripping diapers below).
Scraper.
I use a hard spatula to scrape the poop into the toilet. People buy sprayers for this too. The spatula works. Then we just toss it in the wash with the diapers.
Dirty Diaper Storage.
We use a little garbage bin with a lid. Another inexpensive Ikea purchase. This one was $15 and comes in lots of colors. I also like using these Planet Wise Dry/Wet Bags which are great for multiple uses. I take them to the pool and toss in the towels, swimsuit and reusable swim diapers.
How Many to Buy:
We bought the 24 pack for $406. I sometime wish we had a few more and will probably order the 3 or 6 pack to add to what we have. The 24 is plenty of diapers but, when I'm really busy, it would be nice to have a couple more.

How to Wash Your Cloth Diapers:
I run a short (express) cold/cold wash. During this wash I use the recommended amount of detergent. For washing cloth diapers the recommended amount is one-half to one-quarter the usual amount. Then I run by a regular length hot/cold wash adding about a tablespoon of color safe bleach. The color safe bleach seems to help lift out the odor and keep them cleaner. I don't use detergent in the second wash. You want your diapers really clean and free of all soaps when they are done rinsing. Then, we hang them to dry. Bum Genius says you can tumble dry the inserts but I prefer to just line dry it all.
How Often Do You Wash Your Cloth Diapers:
We try to wash them every other day. You don't want them sitting for long.
What To Do If Your Cloth Diapers Start Leaking:
Run a strip wash (direction below)! Also, if the diapers are too big or too tight they can leak. When she's inbetween sizes I sometimes find that putting a snug onesie over the diaper helps hold the sides in.
How to Strip Your Cloth Diapers:
If your diapers are leaking, they may have gotten some build up. To strip them, I put them through a regular length hot/cold wash with color safe bleach and a tiny bit (about 1/4 teaspoon) of dishwasher detergent. Then, I remove the liners and run a sanitizing (extra hot) wash on just the inserts with the recommended amount (1/4 cup) of regular bleach. I run a strip-wash on them about once a month or after I've had to throw them in the dryer. If they get really clogged (which ours did because I didn't know about the diaper liners!) you may have to use a dish brush and scrub the liners with lots dish soap by hand to really break it up. Also, pouring boiling water over the inserts and letting them soak helps too.
Never:
-Use diaper rash cream directly in contact with the cloth diaper, always use a liner.
-Boil your diapers.
-Use fabric softeners or dryer sheet with your diapers (or in a dryer that you will be drying your diapers in).
Tips for Removing Odors:
Most cloth diapers do not recommend using vinegar and baking soda! Usually a second hot wash does the trick. The once a month bleaching and sanitizing of the inserts helps a lot. Also, line drying them outside in the sunshine works great. The sun is a natural bleacher.
I really hope this helps answers some of your questions about my experience with cloth diapering. If I missed something you want to know, ask in the comments and I'll add it to the post! Cloth diapering is relatively easy and I'm really glad we made the choice to do it. I do like keeping a small batch of current size disposables on hand for trips, last minute drives, or extreme diaper rash situations but, 99% of the time we use and love our cloth diapers.
HAPPY DIAPERING!