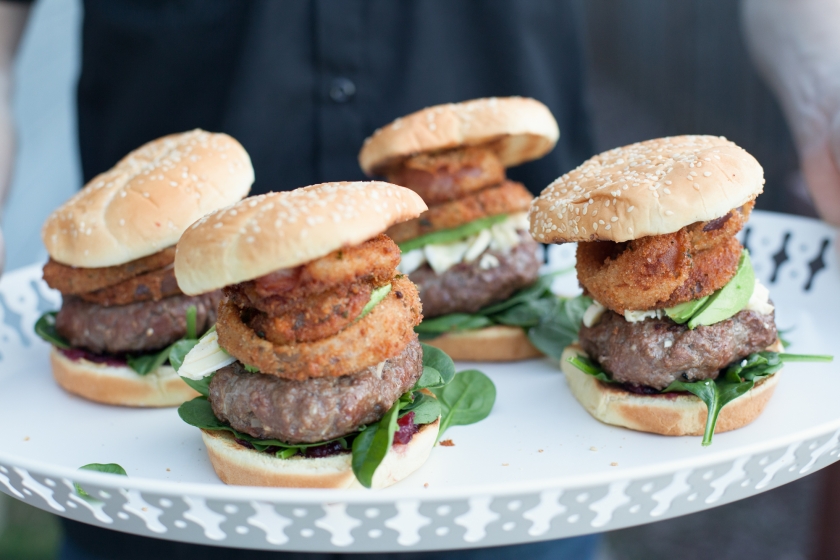 PIN

After taking a few weeks of from cooking, thanks to the generous flow of donuts and dinners provided by our friends, I'm back in the kitchen making dinners and loving it. The grocery shopping aspect is challenging, but once the ingredients are home, I've been thouroughly enjoying cooking again… even if we eat quickly and in shifts!
There's nothing better than sitting down with your friends in the summer, turning on the grill, and making burgers for dinner. I put this burger together for the summer issue of our local magazine, for which I'm the resident food writer. I was inspired by a photo I saw on Instagram (I wish I could remember who's feed!) and jotted down the basic ingredients. I know it sounds crazy, but it's really, really good! My husband and friends were a little skeptical, but in the end, completely won over by this recipe!
BURGERS WITH SPINACH, AVOCADO, BRIE, CRANBERRY AND BACON AND ONION RINGS
Ingredients.
2 lbs ground beef
shallot, finely minced
1 tablespoon Worsteshire Sauce
1/2 red onion, cut into rings and separated
6-8 slices bacon
baby spinach
sesame seed buns
ripe avocado, sliced and peeled
whole cranberry sauce
brie cheese
1/2 cup buttermilk
1 egg
cayenne pepper
1/2 teaspoon baking powder
flour
plain bread crumbs
kosher salt
freshly ground black pepper
vegetable oil, for frying
Directions.
Start by seasoning the beef with 1 1/2 teaspoon salt, 1 teaspoon freshly ground black pepper, 3 tablespoons minced shallot, and 1 tablespoon Worsteschire Sauce. Allow to sit for 15 minutes. Pin the slices of bacon into rings using toothpicks.
While the burgers are marinating, make your onion and bacon rings. Whisk together the buttermilk, egg, large pinch of salt, 1/8th teaspoon cayenne, and baking powder. Heat 2 inches of oil in a skillet over medium high heat, it should be hot but not smoking. One at a time, coat the onion rings in flour, dip them in the buttermilk mixture, shake off the excess coating, then coat with bread crumbs. Fry the onion rings in small batches for about 3-4 minutes each. Carefully remove them from the oil when they are golden brown and set them aside to drain on a cooking rack or paper towel. Then repeat the process with your bacon rings (remove the toothpicks once they're cool).
Form into 6-8 burger patties. Heat your grill and cook the burgers, flipping halfway through. Toast the buns. Now you're ready to assemble the burgers. Start with a couple slices of avocado, then a small bunch of baby spinach, then the burger, the cranberry sauce, the brie, and finally, top with a couple onion rings!
PRINTABLE RECIPE.
BURGERS WITH SPINACH, AVOCADO, BRIE, CRANBERRY AND BACON AND ONION RINGS