Yesterday was a long day, and I ate garlic bread for dinner. The girls had a bath at 4pm, and oatmeal with blueberries for dinner. They're now cuddled up on the couch watching a movie that I hope will carry us right up to the cusp of bedtime. Yesterday was challenging, today was easy… so it goes with parenting… so it seems to go with life. We are chipping away towards our new adventure. I know I'm being coy about where and when we're moving but mostly that's because I don't want to say anything until it feels more real. If that makes sense. But what I can tell you is that part of our new adventure will include a new family member. We are expecting our third babe this winter and we're so, so happy.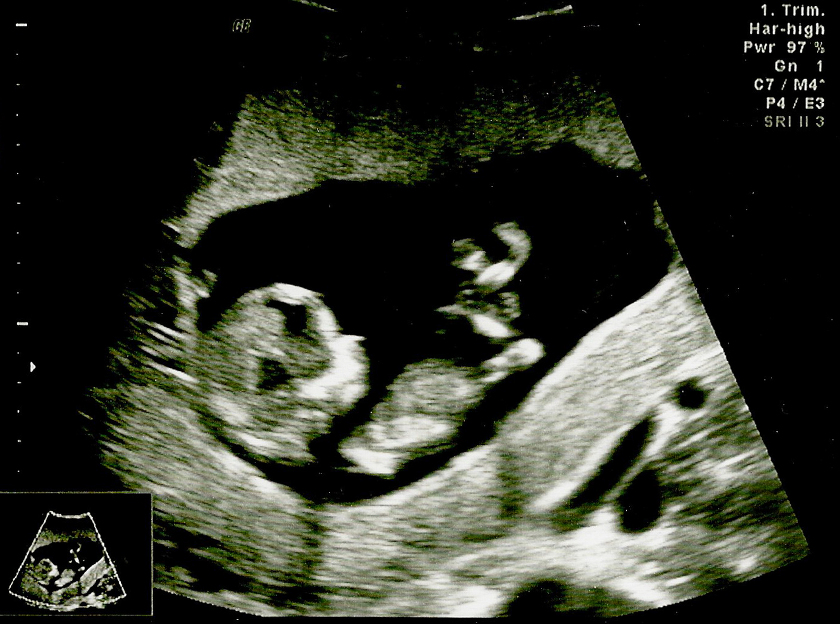 PIN

Menu planning has been a little interesting lately since my brain doesn't seem to be working properly (for obvious reasons) and all my beautiful cookbooks are temporarily residing with my sister. I called my sister up for advice about planning a simple menu since I tend to make my menu based on my mood, and our current living situation doesn't make that a very reasonable option. My sister wisely recommended that I make one menu plan for one full week, and then just repeat it for the next few weeks.
The creative cook in me cringed mildly at this idea, but my frayed nerves cheered at the opportunity to cross something significant off my daily to do list. I immediately texted a few of my closest friends to ask them, "What are your easy, go-to dinners?" I got great suggestions and pulled together a simple menu that included things like soba noodle salad with fried tofu, teriyaki chicken with jasmine rice and a side of quick pickled cucumbers, and, of course, breakfast for dinner. When I laid out my breakfast for dinner plans I didn't exactly mean that I would be making the kids oatmeal at 4:30pm, but that was just what the day, and especially the afternoon, called for.
Keeping the menu prepped, the freezer and pantry stocked for the exact meals on that menu, has freed me up to spend my days making fun desserts which have been making me, and the kids, pretty pleased. This new baby is all about desserts, and gummy bears. I made a super simple, but pretty decadent version of bananas foster (minus the booze), and we made a delicious Blackberry and Blueberry Pie after a couple of days of berry picking with my Mom in town.
We spent about two hours picking blackberries, seeking out the ripest ones we could find and spitting out many tart ones along the way. The girls would pick their berries and plunk them into small containers to be added to my bigger one, and before long we had two full pounds of plump, warm berries. The following morning we loaded up nice and early and headed to our favorite local blueberry farm where we picked another couple pounds of blueberries. The girls had dropped theirs a fair number of times so by the time we got home their blueberries were bleeding juice through their paper bags, practically screaming to be made into pie.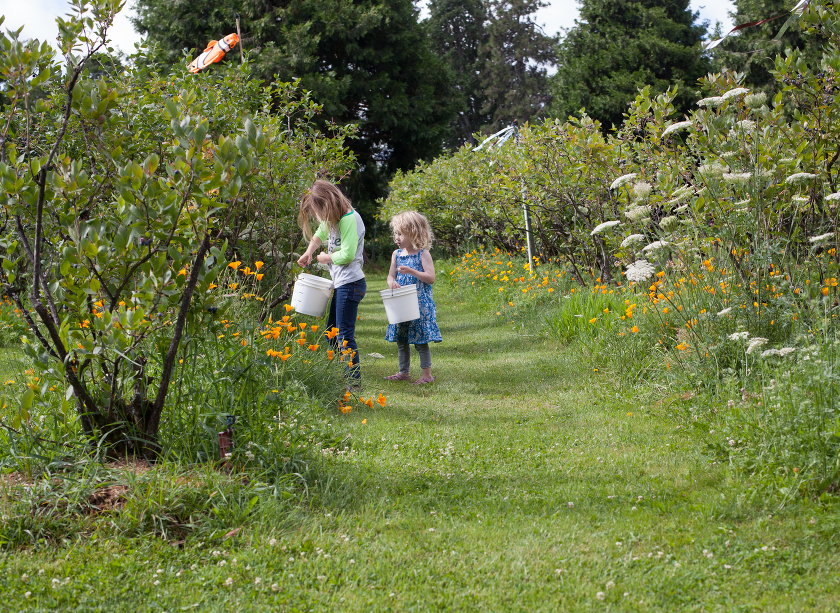 PIN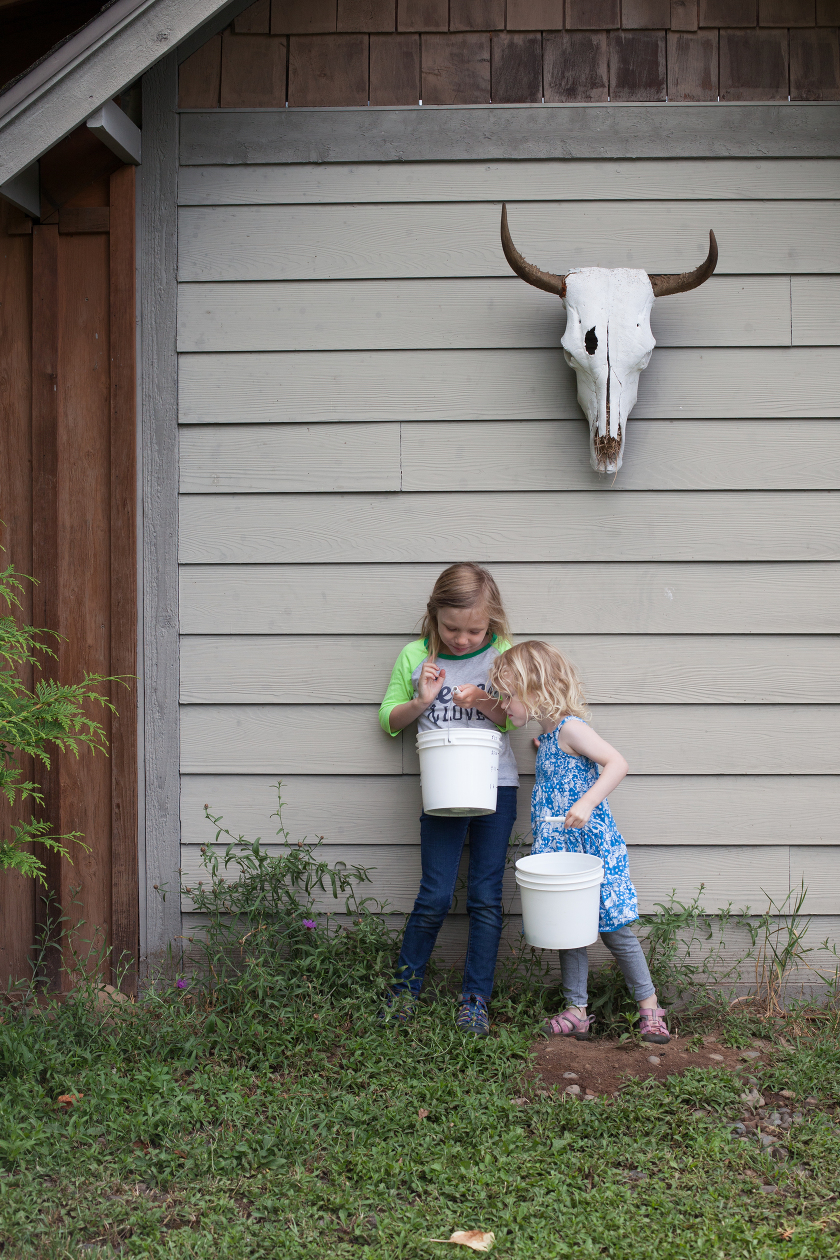 PIN


PIN


PIN


PIN

I made up a basic pie crust before we'd left for the blueberry patch, so by the time we returned it had been resting for a few hours and was ready to be rolled out. I prepared the base, wrapped it tight and returned it to the fridge to chill while I prepared the berries. I used about half of the blueberries (basically all the ones the girls had pre-macerated), and all of the blackberries we'd picked. To them I added a fair amount of sugar to sweeten the still-tart berries, some bright lemon zest and juice, a bit of salt, warming nutmeg, flour and cornstarch to bind it all together, and on a whim I added a splash of fragrant almond extract. Lulu and I mixed the berries together with all the other filling ingredients roughly together in a large bowl. Once it was fully combined I let it sit for about 20 minutes so that the flavors could meld together and the berries would release a bit of their juices.

PIN


PIN


PIN


PIN

With the base ready I ladled the filling into it just shy of the brim, rolled out my top and cut it into two inch lattice strips. After a quick egg wash and dusting of sugar, the pie went into a nice hot oven. An hour later it emerged – fragrant, flaky, and perfectly summery. I ended up with a bit leftover filling that I poured into a small casserole dish and topped with an excessive amount of crumble topping. The crumble is now tucked away in the freezer for a rainy day, and the pie is long gone, have been enjoyed for a couple of desserts and a couple of breakfasts.

PIN


PIN


PIN


PIN

BLACKBERRY AND BLUEBERRY PIE
Ingredients.
Crust.
2 1/3 all-purpose flour, plus more for rolling surface
1/2 cup (1 stick) very cold unsalted butter, cut into 1" slices
1 teaspoon fine salt
1/2 cup ice water
Filling.
2 lbs fresh blackberries
1 1/4 lbs fresh blueberries
zest of 1 lemon
3 tablespoons fresh squeezed lemon juice
3/4 teaspoon fine salt
1 cup granulated sugar (plus more to taste, and more for assembling)
1/2 teaspoon pure vanilla extract
1/2 teaspoon ground nutmeg
1 1/2 tablespoons corn starch
2 tablespoons all purpose flour
3/4 teaspoon almond extract
1 egg
1 1/2 tablespoon water
1/2 tablespoon unsalted butter
Directions.
To make the pie dough, put the flour in the food processor along with the salt. Pulse briefly to combine. Add in the chilled butter and pulse to combine, until the butter is broken up and the dough looks like sand. With the food processor running, slowly pour in the ice water just until the dough forms a ball. Transfer the dough to a floured surface and form it into a ball, being careful not to overwork it. Wrap tightly with plastic wrap and chill it in the refrigerator for at least four hours, up to overnight.
While the dough chills, combine the blackberries, blueberries, lemon zest and juice, salt, sugar, nutmeg, corn starch, flour, vanilla extract, and almond extract in a large bowl. Mix roughly with a wooden spoon to combine and slightly macerate. Taste for sweetness and add sugar as desired until it's just as sweet as you like. Set aside to settle and meld for 20-30 minutes.
Preheat the oven to 425ºF.
Sprinkle about 1/2 teaspoon of sugar into the base of your pie dish – this will make it easier to maneuver you dough in the dish. Remove the dough from the fridge and cut it in half. Wrap what will be the top crust back up tightly and place it back in the fridge. On a lightly floured surface, roll out the bottom crust to 1/8th inch thick. Carefully transfer it to the pie dish. Fill it nearly to the brim with the filling, dot it with the 1/2 tablespoon of butter, and pull out the remaining pie dough to roll out. Roll the top dough to 1/8 inch thick and cut it into two inch strips for a wide lattice top, or simply roll it out for a basic pie crust.
Using a pastry brush, dampen the exposed rim of the bottom crust before adding the top crust to the pie. Crimp the edges by hand or with a fork. Trim the excess dough from the edge of the pie. Whisk together the water and 1 egg and, using a brush, lightly coat the top of the pie with the egg wash. Sprinkle the wash with a bit of sugar. If you have chosen a basic pie crust, as opposed to a lattice top, be sure to cut slits into it to allow the steam to escape.
Place the pie in the oven on the center rack, on top of a baking sheet in case it spills over a bit, and immediately turn the oven down to 350ºF. Bake the pie for 45 minutes – 1 hour, until the crust is golden and flakey, and the filling is heated through.
Allow the pie to cool completely, or at least as cool as you have the patience for, before slicing it and serving it with vanilla bean ice cream or fresh whipped cream. Keep it wrapped and stored in the fridge. It makes for a great breakfast served with a splash of heavy cream.
PRINTABLE RECIPE.
BLACKBERRY AND BLUEBERRY PIE

Save
Save
Save