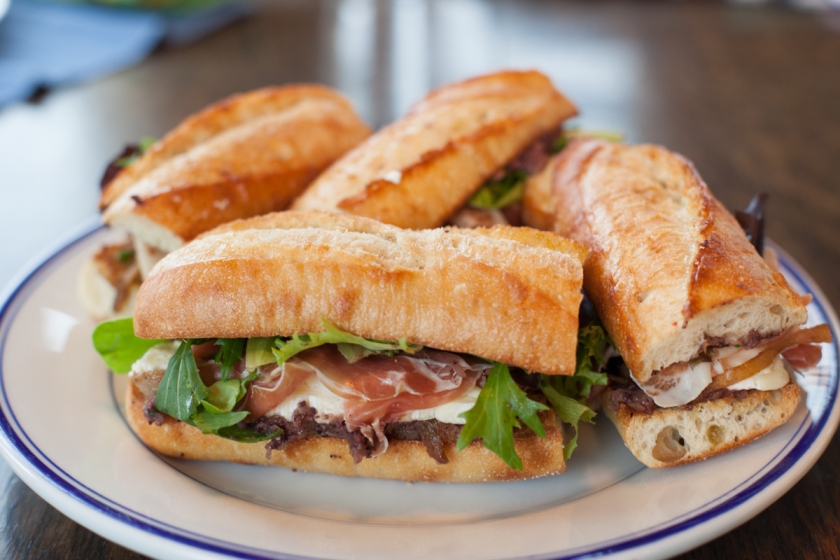 PIN

Things have been in a bit of a spin around here. We've been working hard, Kyle at the brewery, me at home and on photography jobs. We are doing our best to find time for fun too… camping, canning, working in the garden. These days are so busy, one of the easiest things to pull together for dinner is a wonderful sandwich and a simple salad. I love the availability of fennel in the summer but I wasn't quite sure how to use it on a sandwich. I decided to roast it and throw it in the food processor with some kalamata olives for a simple, but slightly unique tapenade. This sandwich is satisfying, rich and simple to make.
BAGUETTE SANDWICHES WITH PROSCIUTTO, BRIE, FENNEL AND OLIVE TAPENADE
Ingredients.
baguette
brie cheese
1/4 lb thinly sliced prosciutto
one yellow onion, thinly sliced
one fennel bulb, thinly sliced (save a small handful of the fennel fronds)
1 teaspoon brown sugar
1 tablespoon lemon juice
3 large basil leaves
1/2 cup kalamata olives, pits removed
extra virgin olive oil
4 tablespoons room temperature butter
1 garlic clove, peeled
mixed-greens
kosher salt
freshly ground black pepper
Directions.
Preheat the oven to 375˚F. Toss the sliced fennel, with a bit of olive oil, salt and pepper. Place on a baking sheet and roast for 40 minutes until softened. Allow to cool. Once cooled, transfer to a food processor. Add in the lemon juice, basil, olives and 2 tablespoons extra virgin olive oil. Blend until mostly smooth.

While the fennel is roasting, caramelize the onions.
Heat 2 tablespoons butter in a medium skillet over medium-low heat. Add in the onions and cook slowly, stirring often, until they have completely browned. Season with the brown sugar, a pinch of salt and pepper. Stir and allow to cook for another minute or two before setting aside to cool.
Turn on your oven broiler. Slice the baguette into four pieces, cut each of the four sections into eight open faced sandwich pieces. Place the pieces, cut side up, on a cookie sheet. Spread each with a small bit of butter. Place in the oven to broil for a few minutes, until they are golden. Remove from the oven and rub each piece with the garlic cloves.
Spread each sandwich with the fennel/olive tapenade, top with slices of brie, prosciutto, onions, and a small handful of fresh mixed greens.
PRINTABLE RECIPE.
BAGUETTE SANDWICHES WITH PROSCIUTTO, BRIE, FENNEL AND OLIVE TAPENADE